Therapist tried to warn about alleged abuse of Florida twins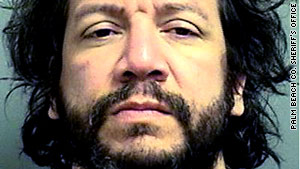 Jorge Barahona has been charged with attempted first-degree murder.
STORY HIGHLIGHTS
The girl was found dead in her adoptive dad's truck; her brother was taken to a hospital
A therapist calls an abuse hotline and says the twins were bound with tape for hours
The adoptive father has been charged with child abuse and attempted first-degree murder
(CNN) -- A therapist tried to warn authorities about alleged abuse of a Florida brother and sister days before one of them was found dead and the other found doused in dangerous chemicals in a pest control truck on the side of a highway, according to a phone call released this week.
"When they are being punished, they are being taped up and with their arms and legs and put in a bathtub," said the therapist, who was not named. "They are in there all day and all night, and she undoes their arms when they eat."
That concerned call, about the 10-year-old twins, was made to an abuse hotline February 10, four days before the twins were found in a pest control truck on the side of Interstate 95 in West Palm Beach, Florida.
Jorge Barahona, the twins' adoptive father, has been charged with attempted first-degree murder with a weapon and aggravated child abuse with a weapon in the case.
The twins' adoptive mother, Carmen Barahona, has not been charged in the case, but police say they are looking into everyone who had access to the children.

Dad found with dead kid, body bag in car

Florida DCF: 'Outraged all of us'
The therapist said in the call she was concerned about how the Barahonas were treating the twins. She said she was told about the alleged abuse by the couple's granddaughter. The granddaughter said she has seen the twins bound in a bathtub and "she was threatened (by her grandparents) not to say anything," according to the therapist.
An independent panel has been asked to investigate the actions of Florida's child protection system in the case.
Authorities have said Jorge Barahona parked his pest control truck on the side of I-95 on February 14. A roadside ranger said he found Barahona beside the truck and his adopted son ill inside the vehicle, which was filled with toxic chemicals. The body of his adopted daughter, Nubia, was discovered in the back of the truck in a plastic bag.
The boy was taken to a hospital and is still being treated for severe burns.