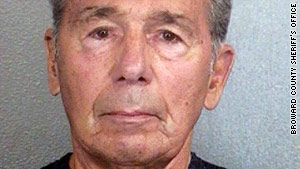 Authorities say Luigi "Baby Shacks" Manocchio extorted cash "protection" payments from strip clubs for two decades.
STORY HIGHLIGHTS
Luigi "Baby Shacks" Manocchio pleads not guilty in U.S. District Court in Providence
He is accused of extorting money from owners of strip clubs, other adult entertainment
Manocchio, 83, is among 127 arrested last month in a massive raid targeting mafia
His lawyer says she thinks he'll make bond, adding: "We'll see how this case unfolds"
(CNN) -- A reputed former New England mob boss pleaded not guilty Thursday in federal court, just over a month after he was among 127 people nabbed in a massive sting targeting organized crime.
Luigi "Baby Shacks" Manocchio pleaded not guilty in the U.S. District Court of Rhode Island in Providence, according to court documents. He remains behind bars until a March 1 bond hearing.
Manocchio's attorney, Mary J. Ciresi, told CNN affiliate WPRI that she was optimistic that Manocchio could make bond next week. All pretrial motions must be filed by May 16, and his trial will start no earlier than June 1, an arraignment and pretrial discovery order from U.S. Magistrate Judge David Martin indicated.
The FBI has said that Manocchio, 83, headed the New England branch of La Cosa Nostra from his home of Providence. The investigation also included the arrest of members of New York's so-called "five families" -- the Bonanno, Colombo, Gambino, Genovese and Lucchese organizations -- as well as the alleged DeCavalcante crime syndicate in New Jersey.
The federal indictment alleges Manocchio, also known as "The Professor" and "The Old Man," in 1993 began a nearly two-decade long stretch of extorting cash "protection" payments from strip clubs and other adult entertainment businesses in Providence.
He allegedly worked with Thomas Iafrate, a bookkeeper for the Satin Doll, Cadillac Lounge and other businesses. In addition to more regular payments, the indictment claimed the pair got $2,900 in cash on November 6, 2008, "induced by the use of force, violence and fear."
Manocchio was arrested January 19 in Fort Lauderdale, Florida, by law enforcement officials from several agencies, including the FBI, Rhode Island State Police and Providence Police
It was all part of what authorities described as one of the largest single-day operations against the mafia in FBI history, with law enforcement fanning out across Italy, New York, New Jersey, Florida and Rhode Island to arrest scores of suspects.
"Today's arrests and charges mark an important step forward in disrupting La Cosa Nostra's illegal activities," U.S. Attorney General Eric Holder said after the arrests, referring to the criminal organization by its Italian name.
Holder said organized crime is not resurgent and no longer nationwide, but it still subtracts millions of dollars from local businesses by way of a "mob tax," or tribute exacted through corrupt local officials. He described the phenomenon as "a major threat to the economic well-being of this country."
Ciresi, Manocchio's lawyer, urged the media and public to keep an open mind with regards to her client.
"I'm not going to comment on (Thursday's) proceedings, or any of the allegations made by the government, or any of the allegations that are in news reports," she said. "We'll see how this case unfolds."