Canadian judge under review for controversial remarks in sex case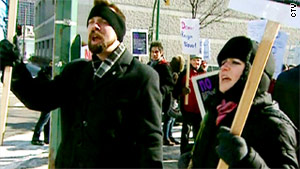 Protesters upset with the judge's ruling gather outside the Law Courts in Winnipeg on Friday.
STORY HIGHLIGHTS
A Canadian judge sentences a convicted rapist to no jail time
Judge: Victim's clothes and behavior sent mixed signals to accused
Protestors called on the judge to apologize
The Canadian Judicial Council is reviewing the judge's ruling
(CNN) -- A Canadian judge whose controversial ruling and remarks in a sexual assault case sparked outrage is being investigated by the Canadian court system, a website statement said Friday.
Last week, Manitoba Justice Robert Dewar sentenced 40-year-old Kenneth Rhodes to a two year conditional sentence to be served at home for raping a 26-year-old woman.
That sentence, along with comments by Dewar which suggested that there was "sex in the air," have led to several complaints from the victim and the public.
According to court records provided by CNN affiliate the Canadian Broadcasting Corporation, Rhodes met the victim and her friend at a bar before they drove out of town to a small lake on an isolated road in August 2006. The victim said Rhodes made several passes at her, and later that night, after she was intoxicated, he raped her.
"The victim was so afraid that she fled without pants through the woods," prosecutor Sheila Seesahai told the court, adding that Rhodes took advantage of the much smaller victim.
Rhodes' defense had a different story.
"It was a lapse of judgement on his part," attorney Derek Coggan argued, according to court records.
The judge's suggestion that the women's choice of clothes and their behavior may have given the accused the wrong impression led many to believe he placed some of the blame for the attack on the victim.
Protesters upset with the judge's ruling gathered outside the Law Courts in Winnipeg on Friday and shouted "no means no."
Concerned about the dangerous precedent the ruling and remarks could set for future sexual assault cases, the protesters called for the judge to apologize to the victim and all Manitobans.
The court issued a statement on behalf of Dewar saying it was "inappropriate to comment further at this time" because the case could still be appealed.
The Canadian Judicial Council on Friday indicated its intent to review complaints against Dewar. A statement on the council's website said the it "works to foster ongoing public confidence in the judiciary."