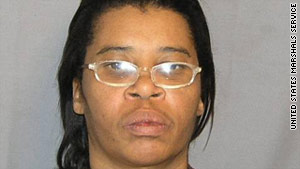 Ann Pettway allegedly told investigators she was frustrated with her inability to give birth.
STORY HIGHLIGHTS
NEW: Defense attorney says he is looking into possibility of another suspect
Ann Pettway pleads not guilty in 1987 baby kidnapping case
Grand jury says defendant "willfully and knowingly" seized the baby
Carlina Renae White, now 23, was reunited with her birth mother last month
New York (CNN) -- A woman suspected of snatching an infant from a New York hospital in 1987 entered a plea of not guilty on federal kidnapping charges at her arraignment Thursday.
Ann Pettway entered the plea in federal court in Manhattan
Pettway, who shuffled into court wearing prison garb, sat in front of Joy White and Carl Tyson, the couple whose baby she is accused of stealing more than 23 years ago.
Pettway was recently indicted on one count of kidnapping in the abduction of Carlina Renae White, now 23, who was reunited with her biological mother in January. According to court documents filed in the case last month, Pettway admitted to taking the girl from a Harlem hospital after suffering several miscarriages.
The grand jury said Pettway "willfully and knowingly" seized the baby, according to a copy of the indictment from the U.S. District Court for the Southern District of New York.
The defendant's court-appointed attorney, Robert Baum, told CNN he was looking into newspaper accounts that looked at the possibility that someone else kidnapped the baby. The reports said five other people mentioned another person, who claimed to have an alibi, Baum said.
Joy White had no comment after Thursday's arraignment, but Tyson said he was disappointed.
"I'm not happy about it," said Tyson. "She knew it was wrong. While it's good to have my daughter back, she should do her time."
The next hearing is scheduled for May 2.

Pettway turns herself in
Pettway turned herself in last month at the FBI office in Bridgeport, Connecticut, FBI spokesman William Reiner said. She faces up to 20 years to life in prison and a fine of up to $250,000 if convicted.
Carlina White tracked down her birth family in early January, saying she had had a nagging feeling all her life that she was brought up by a family to which she didn't belong. Ernie Allen, president and CEO of the National Center for Missing and Exploited Children, said White's suspicions grew after the woman who raised her could not produce a birth certificate for her.
Joy White told the New York Post last month that she last saw her daughter when she was 19 days old. She took her to a Harlem hospital on August 4, 1987, because the baby had a high fever, a New York police official said. Carlina was admitted to the hospital, and her mother went home to rest. When she returned, the baby was gone.
Pettway told investigators she was frustrated with her inability to give birth, according to court papers filed in January.
Court documents state Pettway tried unsuccessfully several times to forge a birth certificate. Pettway acknowledged that she was not Carlina White's biological mother, claiming she was given to her as an infant by a woman who was "on drugs," according to the documents.
If Pettway was given the baby without knowing she was kidnapped, she would not be guilty of kidnapping, Baum said.
During an interview with federal investigators after she surrendered, Pettway allegedly expressed remorse that she "caused a lot of pain," court papers state.
CNN's Susan Candiotti contributed to this report.
FOLLOW THIS TOPIC