Feds indict 22 in alleged fake document ring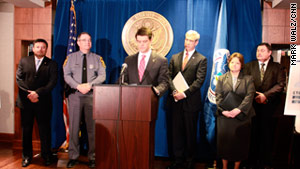 Document fraud "can be ugly and involve ... the use of deadly weapons," ICE Director John Morton said Thursday.
STORY HIGHLIGHTS
The Mexico-based group used kidnappings, beatings and murder, an indictment says
Fake identification documents were sold in 19 cities in 11 states, officials say
The 22 defendants were arrested in a roundup last November
(CNN) -- Twenty-two people allegedly involved in a "highly sophisticated and violent" Mexico-based ring that sold fake documents in the United States were indicted by a federal grand jury in Richmond, Virginia, federal officials said Thursday.
The group is accused of "kidnapping, beating and -- at least on one occasion -- murdering competitors and using violence to discipline its own members," according to a statement from the U.S. Immigration and Customs Enforcement agency.
"Document fraud doesn't just involve paperwork," ICE Director John Morton said. "The business of document fraud, which can be ugly and involve violence and the use of deadly weapons, warrants the attention of Homeland Security Investigations."
The group, uncovered during "Operation Phalanx," had cells in 19 cities in 11 states, including three cells in Virginia, ICE said.
"The indictment portrays a deadly criminal organization that uses brutal violence to eliminate rivals, protect its turf and enforce discipline against its own members," said U.S. Attorney Neil MacBride.
The 12-count indictment accuses Israel Cruz Millan, a 28-year-old Raleigh, North Carolina, man -- also known as "El Muerto" -- of heading the group's U.S. operations that produced high-quality false identification cards to illegal aliens.
Millan allegedly placed a manager in each city, with a number of "runners" who handed out business cards advertising the fake document services and selling them to customers, the indictment said.
A counterfeit resident alien and Social Security card typically sold for $150 to $200, it said.
The indictment says the group sent more than $1 million to Mexico from January 2008 through November 2010.
Also, the group apparently tried to put competitors out of business by posing as customers and attacking them when they delivered the documents, the indictment said.
"These attacks allegedly included binding the victims' hands, feet and mouth; repeatedly beating them; and threatening them with death if they continued to sell false identification documents in the area," ICE said. "The victims were allegedly left bound at the scene of the attack, and the indictment states that at least one victim died from the beatings."
Members who violated group rules were disciplined by having their eyebrows shaved, being forced to wear weights, beatings and other violence, the indictment said.
The defendants were among 28 people arrested last November on a previous indictment. Five of those later entered guilty pleas.