Arrest photos of Giffords shooting suspect released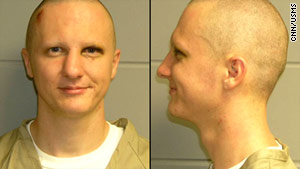 Jared Loughner is accused of killing six people and injuring 13 others.
STORY HIGHLIGHTS
Loughner is grinning in booking photos
Images released under Freedom of Information Act
Man is suspect in shooting of congresswoman, killing of 6 in Arizona
New York (CNN) -- Two new booking photographs of Arizona shooting suspect Jared Loughner were released Tuesday.
The photos, which show Loughner smiling, were obtained Tuesday by CNN through a Freedom of Information Act request filed last month. Loughner is accused of killing six people and injuring 13 others in a January 8 shooting outside a Safeway grocery store in Tucson, Arizona.
The U.S. Marshals Service took the photographs when Loughner first appeared before a federal magistrate in Phoenix, three days after the shooting that injured Democratic Rep. Gabrielle Giffords and claimed the lives of a federal judge and a 9-year-old girl.
Loughner is grinning, just as he was in a mug shot taken by the Pima County Sheriff's Office, which initially took him into custody after the shooting.
One photo shows Loughner head-on and the other is a profile. The photos show a bruise on one side of his head and a slightly bruised left eye. Similar injuries are seen in the sheriff's office mug shot. At the time, authorities said the suspect suffered the injuries when people at the shopping center hit him and wrestled him to the ground moments after he fired more than 30 shots.
U.S. Marshals Service spokesman Jeffrey Carter said, "He had those bruises when we took charge of him" at the federal courthouse in Phoenix.

Feds release new Loughner mug shots

Giffords sends birthday tweet
Last week, defense attorneys for Loughner tried to block release of the new photos. In a motion filed with U.S. District Court Judge Larry Burns, the defense argued the mug shots could "reasonably be expected to constitute an invasion of privacy" and "are much more revealing than an ordinary photograph."
The defense motion also argued, "Mug shots are powerfully associated with criminality."
However, Burns took a different view. "I do not see a serious threat to his ability to get a fair trial if the two mug shots are released," Burns said during a hearing in San Diego.
The dead included Giffords staffer Gabe Zimmerman and U.S. District Judge John Roll. Giffords is recovering in a Houston rehabilitation hospital.
Loughner is charged with one count of attempting to assassinate Giffords and two counts of attempted murder in the shootings of Giffords staffers Pamela Simon and Ron Barber.
He has pleaded not guilty.
FOLLOW THIS TOPIC