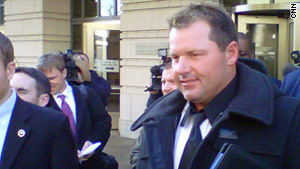 Roger Clemens departs U.S. District Court Wednesday after a hearing on a possible conflict-of-interest involving his attorney.
STORY HIGHLIGHTS
Baseball great Roger Clemens developing his defense against criminal charges
Prosecutors defend their indictment, ask judge not to dismiss charges
Clemens is accused of lying to Congress in denying he used steroids
Case is moving toward a trial scheduled to start July 6
Washington (CNN) -- Prosecutors are asking a federal judge to proceed with the upcoming criminal trial against baseball's Roger Clemens, saying his defense attorneys failed to establish why any charges should be dismissed.
Clemens is fighting a six-count indictment for lying to Congress during a 2008 probe as to whether baseball players were illicitly using performance-enhancing drugs.
His attorneys last month filed a challenge to the indictment, calling it a "kitchen sink" of charges that prosecutors had inappropriately lumped together.
In a response to that challenge filed Friday, Assistant U.S. Attorney Steven Durham wrote that all of Clemens' "false and misleading statements alleged in Count One were made to a single Congressional Committee on two occasions, eight days apart." Durham said, as such, "those acts can be characterized as part of a single, continuing scheme" and that the indictment is on solid ground.
Durham said any confusion could be addressed in final instructions to the jury when they're sent back to deliberate.
U.S. District Judge Reggie Walton will rule on the defense motion to dismiss, but meantime has scheduled jury selection for July 6. Clemens is charged with one count of obstruction of justice, three counts of making false statements and two counts of perjury in the indictment handed up last August.
Clemens, a seven-time winner of baseball's coveted Cy Young Award and the ninth-winningest pitcher in the sport's history, was swept up in an independent probe of steroid use conducted in late 2007 by former Sen. George Mitchell. The findings of what became known as the Mitchell Report were the focus of a hearing in February 2008 by the House Committee on Oversight and Government Reform.
Clemens is accused of lying during that hearing, and during a related deposition he provided to lawmakers, that he never used human growth hormone or steroids.
His testimony put him at odds with that of his former trainer, Brian McNamee, and with the Mitchell report, which stated Clemens had used banned substances at points in his career.
Pitcher Andy Pettite, who was a teammate of Clemens' on both the New York Yankees and Houston Astros, told the league investigation that Clemens admitted using human growth hormone.
A few weeks later, the committee's leaders asked the Justice Department to launch a perjury probe of Clemens. Rep. Henry Waxman, the committee's chairman at the time, said after Clemens' indictment that perjury and false statements "are serious crimes that undermine the ability of Congress to perform its duties."
"I never took HGH or Steroids. And I did not lie to Congress," Clemens said in a message posted to his Twitter account on August 19, 2010, the day his indictment was released.
Clemens, nicknamed "the Rocket" during his 24-year career, left baseball in 2007 after playing for the Boston Red Sox, Toronto Blue Jays, Astros and Yankees.
Steroid use "is totally incompatible with who I am and what I stand for," he told lawmakers, adding, "I cannot in good conscience admit to doing something that I did not do, even if it would be easier to do so."
As part of his defense, his lawyers two weeks ago subpoenaed the House Committee to try to obtain background material and other information that surfaced out of the Mitchell Report. A spokesman for the committee, Kurt Bardella, confirmed receiving the demand. He told CNN the panel "will meet its obligations in this matter," after consulting with the House General Counsel's office.
The next hearing in Clemens' case is scheduled for March 14. The judge has allowed him to remain free, suggesting during his arraignment that Clemens is so well-known it would be easy to find him.
Prosecutors say they plan to present evidence Clemens may have encountered performance-enhancing drugs as early as 1998, during a party in Florida also attended by McNamee. But Clemens defense attorney Rusty Hardin, in a deposition February 5, 2008, said he can prove Clemens was not at that party.
Hardin, in the deposition, said "the whole house of cards falls" for those trying to prosecute his client, since they claim "that's where he's supposed to have begun to get stuff."