Alleged killer of wife, N.Y. officer, had previous abuse arrest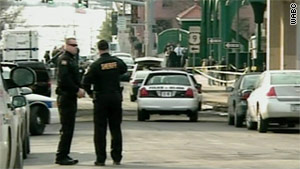 The shootings occured Friday at about 1 p.m. in a parking lot in Poughkeepsie, New York.
STORY HIGHLIGHTS
Police: The suspect was arrested for assaulting his wife two weeks before shooting
The slain officer was an 18-year Poughkeepsie, N.Y., police force veteran
Police say Lee Welch shot and killed the officer while fleeing the scene of his wife's shooting
Welch was carrying the couple's 3-year-old son in his arms when the shooting took place
New York (CNN) -- A man who fatally shot his wife and a police officer in a Poughkeepsie, New York, parking lot before turning the gun on himself had been arrested previously for assaulting the woman, law enforcement officials said Saturday.
Poughkeepsie police identified the suspect as Lee Welch, 27. Welch shot and killed veteran Poughkeepsie police officer John Falcone, 44, while fleeing the scene of his wife's shooting early Friday afternoon, police officials said.
Welch was carrying the couple's 3-year-old son in his arms when the incident took place. The child was not injured, police said.
According to Poughkeepsie Police Chief Ronald Knapp, the gunman's wife, Jessica Welch, 28, had planned to meet her husband at the parking lot to pick up a car owned by the estranged couple. Knapp said Lee Welch had been arrested two weeks earlier for assaulting his wife. The Welches are residents of Catskill, New York, police said.
Police responded to reports of a shooting at the parking lot around 1 p.m. Friday. Upon arriving, officers confronted Lee Welch as he attempted to flee the scene with his son. The officers took the child away from him. Welch then opened fire, killing Falcone. Welch later fatally shot himself, police said.
"None of the police officers discharged their weapon at the scene," Knapp said.
Several other officers were also treated for minor injuries during the shooting.
Police discovered Jessica Welch wounded by gunfire in the car. She was taken to an area hospital, where she later died.
Poughkeepsie officials are mourning the loss of Falcone, an 18-year veteran of the city's police force.
Poughkeepsie Mayor John Tkazyik said "this community has lost a great man and a great officer."
Deborah Brunswick contributed to this report.