Deputies injured in shooting will recover, agency says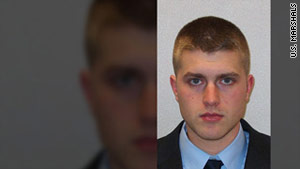 U.S. Marshal Derek Hotsinpiller was fatally shot Wednesday in Elkins, West Virginia.
STORY HIGHLIGHTS
Three U.S. marshals were hit by a shotgun blast as they served an arrest warrant
Derek Hotsinpiller died from his injuries
One of the injured deputies is expected to leave the hospital Thursday
The other was treated and released Wednesday
(CNN) -- Two U.S. marshals who were shot while carrying out an arrest warrant in West Virginia are expected to make a full recovery, a spokesman said. A third marshal, Derek Hotsinpiller, was fatally wounded in the incident.
Supervisory Deputy U.S. Marshal Alex Neville, 42, was expected to be released from the hospital Thursday. He has been a marshal for 19 years, Jeff Carter said.
The other marshal, Deputy U.S. Marshal Wesley "Fred" Frederick, 33, was treated and released Wednesday. He has been with the Marshal Service for 14 months.
The three deputies were hit by a shotgun blast as they entered a residence in Elkins about 8:30 a.m. Wednesday.
Hotsinpiller was airlifted to Ruby Memorial Hospital in Morgantown, about 70 miles away, where he died, the Marshals Service said.
Hotsinpiller had been serving with the Northern District of West Virginia office in Clarksburg since his graduation from the U.S. Marshals Academy, Carter said.
The deputies, along with members of the West Virginia State Police and the Mountain State Fugitive Task Force, were serving an arrest warrant on Charles E. Smith, 50, who was wanted on a charge related to possession of cocaine with the intent to distribute, as well as a felon in possession of a firearm charge, Carter said.
Smith and the officers exchanged fire after the initial shot, and Smith was killed, Carter said.
FOLLOW THIS TOPIC