Man sentenced to life in prison for JFK bomb plot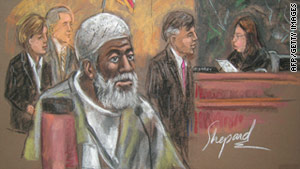 A courtroom sketch shows Russell Defreitas Thursday at his sentencing hearing in New York.
STORY HIGHLIGHTS
Russell Defreitas is sentenced to life for a plot to detonate explosives at JFK airport
He was found guilty of conspiring to explode fuel tanks and a fuel pipeline
Co-conspirator Abdul Kadir was sentenced to life in prison in December
New York (CNN) -- A federal judge on Thursday sentenced a Guyanese man convicted of plotting to detonate explosives at John F. Kennedy International Airport to life behind bars.
Russell Defreitas was found guilty of conspiring to explode fuel tanks and a fuel pipeline at the airport after being arrested in 2007, according to a statement from the U.S. Eastern District Court of New York.
The 67-year-old cargo worker was convicted on charges that included conspiracy to attack aircraft and aircraft materials, and conspiracy to destroy international airport facilities, the statement said.
"Russell Defreitas plotted to commit a terrorist attack that he hoped would rival 9/11," U.S. Attorney Loretta Lynch said in the statement. "Now, our courts have dispensed justice by handing out the life sentence that Defreitas richly deserves."
Co-conspirator Abdul Kadir, a former Guyana Parliament member, was sentenced to life in prison in December, the statement said.
A third man, Kareem Ibrahim, a native of Trinidad, is still awaiting trial.
In the trial of Kadir and Defreitas, prosecutors said the men tapped into an international network of Muslim extremists to develop the plot and start working toward carrying it out.
The men obtained satellite photos of the airport and used Defreitas's knowledge of the facility to conduct surveillance and identify possible targets and escape routes.
An informant secretly taped conversations in which Defreitas described the symbolic importance of targeting the international airport named for assassinated President John F. Kennedy, the complaint said.
"Anytime you hit Kennedy, it is the most hurtful thing to the United States," the complaint quoted him as saying. "If you hit that, this whole country will be in mourning. It's like you kill the man twice."
New York Police Commissioner Raymond Kelly has said officials were concerned about attacks not only on the airport but also on the 40-mile aviation fuel pipeline that runs from a fuel tank farm at JFK through Staten Island, Brooklyn and Queens.