Maryland county ex-chief indicted on bribery charges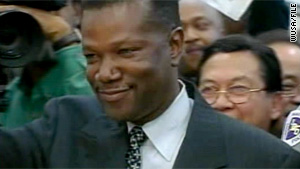 Prince George's County, Maryland, Chief Executive Jack Johnson and his wife were taken into custody Friday.
STORY HIGHLIGHTS
Grand jury indicts former county executive in Washington suburb
FBI arrested him in November after listening in on phone call
Johnson allegedly asked wife to hide nearly $80,000 in cash in her bra
(CNN) -- The top elected official in Prince George's County, Maryland, for the past eight years was indicted Monday on a series of charges including extortion, bribery and evidence tampering.
FBI agents arrested former County Executive Jack Johnson on November 12 after monitoring a phone call in which Johnson and his wife Leslie allegedly discussed quickly getting rid of evidence.
Johnson allegedly instructed his wife to flush down the toilet a $100,000 check from a developer and to hide nearly $80,000 in cash in her bra. Female agents say they discovered the cash.
The federal grand jury in Greenbelt, Maryland, just outside Washington, returned an eight-count indictment alleging extortion, bribery, witness and evidence tampering.
The bribery charge stems from alleged bribes received from real estate developers seeking government grants.
Johnson's term as county executive expired at the end of the year, but his wife Leslie, elected to the County Council 10 days before her arrest, is still serving in the post.
She was not indicted Monday. She is scheduled to appear in court March 16.
FOLLOW THIS TOPIC