Feds: 2 murder charges temporarily dropped in Ariz. shooting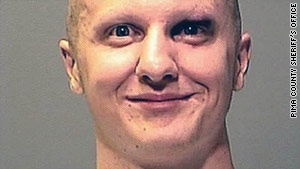 Jared Lee Loughner is accused of opening fire at a Tucson supermarket in January, leaving six dead and 13 injured.
STORY HIGHLIGHTS
Prosecutors say it's a procedural move
They intend to refile the charges in a superseding indictment
(CNN) -- In what prosecutors are calling a "procedural motion," two murder charges were dropped against Arizona shooting suspect Jared Lee Loughner, although authorities intend to refile them in a superseding indictment.
The motion to dismiss the charges was filed Friday.
"It was a procedural motion to keep them off the books in order to bring them back under a superseding indictment," said Robbie Sherwood, spokesman for the U.S. attorney's office in Phoenix.
Loughner, 22, is accused of shooting U.S. Rep. Gabrielle Giffords in the head at a "Congress on Your Corner" event at a Tucson, Arizona, grocery store, then shooting 18 other people, six of them fatally. The dead included Giffords staffer Gabe Zimmerman and U.S. District Judge John Roll. Giffords is currently recovering in a Houston rehabilitation hospital.
The initial complaint filed against Loughner had five counts -- one count of attempting to assassinate Giffords; two counts of attempted murder in the shootings of Giffords staffers Pamela Simon and Ron Barber; and two murder charges in the deaths of Roll and Zimmerman.
But Loughner was indicted on January 19 on the attempted assassination and the attempted murder charges.
Federal prosecutors are bringing forward those three counts first because of the investigation required on the murder counts, Sherwood said. They intend to present a superseding indictment containing the murder charges on March 9 at the next status hearing in the case, he said. "We have the option to bring them back up."
CNN's Nick Valencia contributed to this report.

Part of complete coverage on

In the days and weeks to come, Rep. Gabrielle Giffords' recovery from a gunshot wound to the head will be a marathon, not a sprint, doctors say.

Doctors for Rep. Gabrielle Giffords have upgraded her condition from serious to good, and said she may be transferred to a nearby rehabilitation hospital Wednesday morning.

A federal judge entered a plea of not guilty Monday on behalf of Jared Lee Loughner to three counts of attempted murder in the mass shooting that wounded U.S. Rep. Gabrielle Giffords earlier this month.

Gabrielle Giffords has been able to stand with assistance. "She's activating her muscles even more than what I had anticipated," one doctor says.

Rep. Gabrielle Giffords arrived in Houston, Texas, on Friday to continue her recovery from a gunshot wound to the brain, her office said.

The next phase of recovery for U.S. Rep. Gabrielle Giffords is likely to begin later this week when she will be transported to a rehabilitation hospital in Houston.

Rep. Gabrielle Giffords was worried about her safety long before she was critically wounded in a mass shooting that killed six people in Arizona, her husband said in a new interview.

Arizona shooting suspect Jared Loughner photographed himself posing with a 9mm handgun while wearing a red G-string, a law enforcement source said.


Most popular stories right now