NYC police hunting for man accused of stabbing 3 to death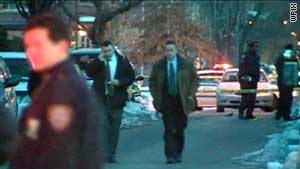 New York police are looking for Maksim Gelman, a suspect in three stabbing deaths.
STORY HIGHLIGHTS
N.Y. police accuse Maksim Gelman, 23, of stabbing 4 people in Brooklyn
Three of those victims died of their wounds, another is in stable condition
Police say the suspect ditched his Lexus, stole a Pontiac, then took off
Police say the three killed are Gelman's girlfriend, mother and stepmother
(CNN) -- New York City police have launched a manhunt for a 23-year-old man who they claim fatally stabbed three people in the span of just over 11 hours Friday.
The investigation began shortly after 5 a.m., when police discovered a 54-year-old man stabbed numerous times in his home in the Sheepshead Bay section of the city burough of Brooklyn.
Emergency personnel pronounced the victim -- later identified as 54-year-old Aleksandr Kuznetsov -- dead at the scene.
Police named Maksim Gelman as a suspect in Kuznetsov's death, saying in a statement at that time that he might have been driving a 2004 gray Lexus with New York license plates.
New York Police Department Lt. Mike Wisokowski said that Kuznetsov was Gelman's stepfather.
Around 4:20 p.m., police responded to a call that two women had been stabbed about a mile north from the earlier incident.
The suspect in that attack -- whom police believe was Gelman -- stabbed the pair and took off in a gray Lexus, police said. The suspect then approached a man driving a 1995 Pontiac Bonneville, stabbed that driver and took his car, according to a New York City Police Department statement.
While driving away, the suspect hit a pedestrian just over twlo miles further north and continued on, away from the scene.
Both of the women stabbed -- whom Wisokowski identified as Gelman's girlfriend and mother -- were dead when authorities arrived.
The car robbery victim -- who has no known relation with the suspect, according to Wisokowski -- was in stable condition at a hospital. The pedestrian hit was likewise in stable condition, according to police.
"It's just, it's a shame," neighbor Anthony Riggio told CNN affiliate New York 1. "That's why it's bothering me a little bit, 'cause I'm kind of like, I know these people. And everybody here, it's so nice. We don't have any trouble here ever. So, it's a sad thing."
Gelman is 6-feet tall and weighs approximately 170 pounds, according to police. He was last seen driving the Pontiac, which had New York license plate KJX189.
"We have numerous resources working to locate this individual," said Wisokowski.
Those with information on the stabbings or Gelman are urged to call the police department's Crime Stoppers hotline at 1-800-577-TIPS.
CNN's Rob Frehse contributed to this report.