STORY HIGHLIGHTS
Ingmar Guandique is sentenced to two concurrent 60-year terms
Levy's mother, Susan, had a tense exchange with Guandique during her victim statement
Levy's body was found over a year after she disappeared; charges came in 2009
Washington (CNN) -- Calling him a dangerous predator, a judge on Friday sentenced the man convicted of killing Washington intern Chandra Levy to 60 years in prison.
D.C. Superior Court Judge Gerald Fisher sentenced Ingmar Guandique to 60 years on each of the two counts he was convicted on, but ordered that they be served concurrently. The result, Fisher said, is still likely to be a life sentence for what the judge characterized as a chillingly unusual murder.
"The nature of the conduct was predatory," Fisher said. He added that there was "something different and worse" about Guandique's actions that wasn't often seen in Washington murders.
Levy, a 24-year-old California native, was in Washington working as an intern for the Bureau of Prisons when she was last seen on May 1, 2001. Her skull was found over a year later, on May 22, 2002, in Washington's Rock Creek Park.
But police didn't arrest Guandique until February 2009. He was then serving a 10-year sentence for attacking two other women in the park and had reportedly spoken about killing Levy.
A jury convicted him of one count of murder with kidnapping and a second count of murder with attempted robbery in November, after 11 days of trial and three days of deliberations.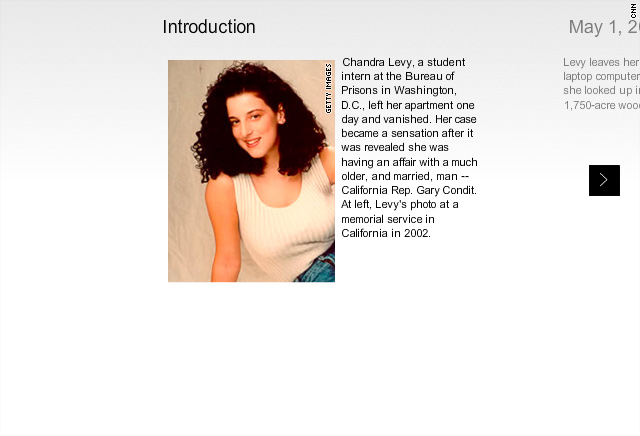 Timeline: Chandra Levy case

Guilty verdict in Levy murder trial
During the trial, prosecutors argued that Guandique, a reputed member of the Salvadoran gang Mara Salvatrucha, attacked Levy while she was jogging in Washington's Rock Creek Park. After her skull was found, a search turned up other remains, as well as clothing later identified as hers strewn down the side of a ravine. Her running shoes were unlaced, and her clothes were turned inside out. Her pants were knotted in tight restraints around her legs.
Fisher's sentence came after a tense moment between Guandique and Levy's mother, Susan, who read letters from her husband and son before reading her own victim impact statement.
During her reading, she consistently looked at Guandique, at one point asking, "Did you really take her? Look me in the eye? Did you?"
Guandique looked at her, shook his head and mouthed, "No."
At the end of her statement, Susan Levy stood, turned to Guandique and loudly addressed him with an expletive before telling the judge, "That is all. Thank you."
Guandique addressed the court as well. Speaking in Spanish through an interpreter, he said, "I am sorry. I am sorry for what happened to your daughter. But I had nothing to do with it."
Fisher denied a motion for a new trial filed by Guandique's attorneys. The defense argued prosecutors had engaged in misconduct during closing arguments and that jurors had ignored Fisher's instructions to them by sharing notes.
Fisher said such actions, which were reported in the Washington Post at the end of the trial, would not have impacted deliberations or changed the verdict.
Guandique faced a maximum sentence of life in prison without parole.
Regardless of the sentence, "I have a lifetime sentence of a lost limb missing from our family tree," Susan Levy said in November after the verdict. "It's painful. I live with it every day. ... There's always going to be a feeling of sadness."
Prosecutor Amanda Haines, during her closing argument, cited what she portrayed as confessions that Guandique allegedly made to a cellmate as he served time for other attacks, as well as remarks he allegedly made to a female pen pal.
Defense attorney Santha Sonenberg emphasized the largely circumstantial nature of the case, including what prosecutors have acknowledged was a lack of DNA evidence, a lack of witnesses and only secondhand accounts of Guandique's alleged confessions.
Both of the other women whom Guandique was convicted of attacking in the park -- including one on the same day Levy went missing -- spoke at the trial, providing testimony that juror Susan Kelly called "powerful." Guandique had pleaded guilty in those attacks, and was set to be released in September 2010.
The disappearance of Levy drew national attention after her parents discovered a connection with Gary Condit, who was then a congressman from California. Condit was never a suspect in the case, but he was questioned intensively for details about Levy's whereabouts.
He testified in the trial, but refused to address a question about whether he had sex with Levy. An FBI forensic expert later confirmed Condit's semen had been found in underwear retrieved from Levy's apartment in the days after her parents reported her missing.
In refusing to answer the question, Condit said, "We've lost our feeling for common decency. I didn't commit any crime. I didn't do anything wrong."
He said several times during his testimony that the media frenzy surrounding Levy's disappearance was hard to handle, including a helicopter flight over his California home while his daughter and her friends were sunbathing at the family's pool.
"They reported that I had young women in bikinis at my house," he said.
CNN's Eric Marrapodi, Kelly Marshall Smoot and Paul Courson contributed to this report.
FOLLOW THIS TOPIC