'Granddad Bandit' pleads guilty to string of bank heists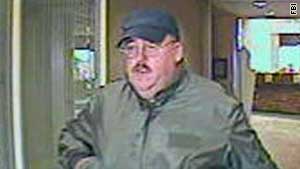 Michael Francis Mara, here in an FBI surveillance video, is suspected in at least 25 bank heists in 13 states.
STORY HIGHLIGHTS
NEW: Michael Francis Mara pleads guilty to bank robberies in 14 states
Authorities say the "Granddad Bandit" is responsible for some two dozen bank robberies
The FBI launched a billboard campaign featuring surveillance pictures to nab suspect
(CNN) -- The man the FBI calls the "Granddad Bandit" pleaded guilty in federal court Thursday to robbing two Virginia banks and acknowledged holding up another 24 branches, according to federal prosecutors.
Michael Francis Mara, 53, pleaded guilty to two counts of bank robbery, which carry a maximum penalty of 20 years in prison for each count, according to a statement from the U.S. Attorney's Office in the Eastern District of Virginia.
As part of the plea agreement, 18 other federal jurisdictions have relinquished jurisdiction for 24 other robberies committed between 2008 to 2010 in 13 states outside Virginia, officials said. In all, Mara acknowledged heists in 14 states.
The defense and government jointly recommended in the plea agreement a prison sentence of 300 months, the statement said. Sentencing is set for May 11 in Richmond.
Mara admitted in court that he stole $83,868 in cash through his robberies, prosecutors said.
"Mr. Mara's incredible crime spree came to an end because of a tip from the public," said U.S. Attorney Neil H. MacBride.

2010: Alleged 'Granddad Bandit' arrested
The case made national headlines last year after the FBI said they were searching for a balding, heavy, bespectacled man they called the "Granddad Bandit."
The agency launched a billboard campaign with surveillance pictures of the robber hoping he would be identified.
After a tipster saw a billboard and called the FBI, authorities nabbed Mara in August in Baton Rouge, Louisiana.
The tipster identified and provided photographs of Mara that were compared to surveillance footage.
During searches, investigators said they found some items, including a hat, eyeglasses and wristwatch, that appeared to be identical to items seen in surveillance photographs.
Before the arrest, Mara worked for a vehicle transportation company and traveled from state to state on business, the FBI said.
Because of his grandfatherly demeanor and nickname, some may have thought the bandit was harmless. He was anything but, the agency said.
In some robberies, he would point to his waistband and indicate he had a gun, but it was unclear if he actually had one, the FBI said.
FOLLOW THIS TOPIC