Judge rejects preliminary hearing for Philadelphia abortion doctor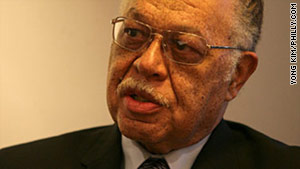 Dr. Kermit Gosnell faces seven first-degree murder charges related to his abortion clinic.
STORY HIGHLIGHTS
Kermit Gosnell is charged with killing his patient and 7 babies during illegal abortions
Gosnell's attorneys had requested an additional hearing
Nine others who worked at the clinic also are charged
Philadelphia, Pennsylvania (CNN) -- A Philadelphia abortion doctor charged with killing his patient, as well as seven babies during illegal abortions he allegedly performed, has been denied a preliminary evidence hearing.
Attorneys for Dr. Kermit Barron Gosnell and his employees had requested an additional hearing, which Judge Renee Cardwell Hughes rejected Wednesday, setting an arraignment for March 2.
He is expected to enter a formal plea then.
Philadelphia District Attorney Seth Williams said Gosnell ran what the prosecutor called "a house of horrors" and was charged with murder and other offenses related to illegal late-term abortions.
The babies were born alive in the sixth, seventh and eighth months of pregnancy, but their spinal cords were severed with scissors, Williams said in a statement.
Nine other people who worked in the west Philadelphia medical office, including Gosnell's wife and sister-in-law, also were charged, Williams said.
The practice, called the Women's Medical Society, served mostly low-income minority women for years, he said.
Williams provided a grisly scenario of the shuttered abortion clinic: A search of the office last year by authorities turned up bags and bottles holding aborted fetuses scattered throughout the building. Jars containing the severed feet of babies lined a shelf. Furniture and equipment was blood-stained, dusty and broken.
Gosnell's attorney, Jack McMahon, could not be immediately reached for comment.
CNN's Sarah Hoye contributed to this report.
FOLLOW THIS TOPIC