Prosecutors: Officials in Bell, California, scandal reject plea deal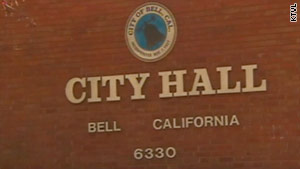 Eight former and current members of Bell's city council are accused of misappropriating more than $5.5 million.
STORY HIGHLIGHTS
Four current and two former members of the Bell, California, City Council are in court
Prosecutors must prove they have enough evidence to bind the six over for trial
The six are accused of misappropriating $1.2 million in public funds
Two more former city officials will have their preliminary hearing at a later date
Los Angeles (CNN) -- As a hearing continued Tuesday on whether six current and former Bell, California, council members should be tried for public corruption, prosecutors confirmed Tuesday that they offered a plea deal, but the defendants refused it, said spokeswoman Jane Robison of the Los Angeles County District Attorney's office.
Robison declined to elaborate on the plea deal or confirm local media accounts of the details. The Los Angeles Times reported Tuesday that lawyers for the six current and former officials rejected plea deals that called for two-year prison sentences and the restitution of hundreds of thousands of public dollars allegedly misappropriated.
Robison told CNN, however, that those details weren't accurate.
"I'm told by prosecutors that whoever reported it, it wasn't accurate," Robison said. "There was an offer, and it was rejected, and ethically we can't discuss what the details are."
The other two remaining figures in the Bell City Hall scandal -- former City Administrator Robert Rizzo and his assistant Angela Spaccia -- didn't receive such offers, the Los Angeles Times reported.
The preliminary hearing involving those two figures has yet to be scheduled, Robison said.
The ongoing preliminary hearing, which began Monday and will determine if prosecutors have enough evidence against the six former or current council members to hold a trial, is expected to last through early next week, Robison said.
In October, the so-called "Bell Eight" pleaded not guilty to corruption charges in Los Angeles County Superior Court.
Prosecutors accuse the eight of misappropriating more than $5.5 million, including being paid for phantom committee meetings and making illegal personal loans.
Prosecutors allege the six people in this week's hearing misappropriated about $1.2 million in public funds and illegally gamed the system to receive exorbitant salaries for doing no work. They face nearly two dozen counts, prosecutors said.
The six are Mayor Oscar Hernandez, City Council members Teresa Jacobo and George Mirabal and former council members Luis Artiga, George Cole and Victor Bello, prosecutors said.
Between 2006 and 2010, the council members were paid nearly $8,000 a month for meetings on four boards that never took place or lasted just a few minutes, prosecutors allege.
Former city administrator Rizzo is facing 55 counts of corruption charges, including that he allegedly gave nearly $1.9 million in unauthorized loans to himself, his assistant, Hernandez, Artiga and dozens of others, prosecutors said.
FOLLOW THIS TOPIC