DNA confirms body found in California canal is that of missing boy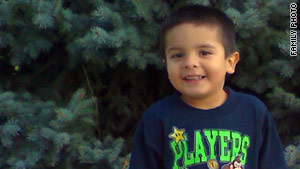 Authorities say Juliani Cardenas was wrestled away from his grandmother in Patterson, California.
STORY HIGHLIGHTS
DNA results confirm that Juliani Cardenas, 4, was found dead in a California canal
Authorities matched DNA from the body with that of the boy's mother
Police say that Juliani was swiped from his grandmother's arms by Jose Rodriguez
A witness says Rodriguez drove into the canal; his body hasn't been found
(CNN) -- California authorities on Friday confirmed that a body found in a canal earlier this week is that of 4-year-old Juliani Cardenas, who police say died sometime after being abducted by his mother's ex-boyfriend.
The body was found Tuesday near Santa Nella in the 117-mile Delta-Mendota Canal. At the time, authorities said that it and the clothing appeared to resemble that of Juliani -- who was last seen January 18, and presumed to have been driven into the canal by his abductor the next day -- but that scientific tests could determine that definitively.
DNA taken from the boy during his autopsy matched that derived from cheek swab samples from Juliani's mother, Tabitha Cardenas, the California Department of Justice determined, according to a statement from the Stanislaus County Sheriff's Department.
Stanislaus County Sheriff Adam Christianson said Tuesday that he believes the remains of Jose Esteban Rodriguez, the man accused of swiping the boy out of his grandmother's arms, are also in the canal. A homicide warrant will be issued for Rodriguez as they continue searching for him, he said.
"We want to offer our deepest condolences to the Cardenas family," the sheriff said. "This is a very difficult time for them."
The discovery was made about 31 miles south of Patterson, where the boy was last seen alive, Stanislaus Deputy Royjindar Singh told CNN.
Tabitha Cardenas said prior to the discovery of her son's body that Rodriguez -- with whom she broke up about five months ago and who is the father of her unborn child -- would not purposely drive Juliani into the water.
A water authority employee found the body at 7:38 a.m. Tuesday, said Merced County Sheriff's Deputy Tom MacKenzie.
"It's very difficult to find the body of a child," Christianson said Tuesday. "It's been a very emotional case for everybody."
A week ago Friday, divers in the canal located the 2003 silver Toyota Corolla belonging to Rodriguez, but there was no sign of him or the child. A witness reported seeing the Toyota going into the water January 19 with a man and youngster inside, Christianson has said.
Authorities on Saturday called off their lengthy search for Juliani in one part of the canal, but said the search would continue elsewhere.
"From the very beginning, we wanted to find little Juliani alive," the sheriff said Tuesday. "Everything led us to that canal."
The car had been trapped in 50 feet of water and was intertwined with two other vehicles, Christianson said Friday. The windows of the car were found opened and it was badly damaged, he said.
Cardenas had said Rodriguez either wanted to have her son for himself or wanted revenge for their breakup. She said she never thought he'd harm Juliani.
Rodriguez "wanted to be with my son," Cardenas said January 20. "He wanted to be with my son so bad that he took it to the extreme."