Feds get first crack at Arizona shooting suspect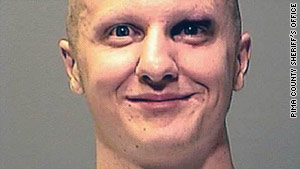 Jared Lee Loughner is accused of opening fire at a Tuscon supermarket in January, leaving six dead and 13 injured.
STORY HIGHLIGHTS
Accused shooter Jared Lee Loughner will be prosecuted by federal authorities first
Loughner allegedly killed six people and wounder 13 more, including Rep. Gabrielle Giffords, D-Arizona
State charges will be prosecuted by the Pima County Attorney's Office
(CNN) -- The federal government will prosecute Jared Lee Loughner on charges related to the attempted assassination of Rep. Gabrielle Giffords and a mass shooting in Tucson, Arizona, before state prosecutors pursue a criminal case against him, federal and state prosecutors said Friday.
Loughner, 22, currently faces a three-count indictment in Arizona's federal district court as a result of a January 8 shooting at a Tucson supermarket. Authorities believe Giffords, an Arizona Democrat, was the target of the shooting, which left six dead and 13 wounded.
Arizona state charges will be prosecuted by the Pima County Attorney's Office, the statement noted. The cases will be tried "in sequence and will ensure that all rights of the victims and their families are vindicated," the statement said. We will "work to see that justice is served in this case."
Giffords is currently in therapy at a rehabilitation hospital in Houston, Texas. Doctors recently upgraded her condition from serious to good, though they noted the congresswoman remains unable to speak or stand on her own.
FOLLOW THIS TOPIC