Philadelphia archdiocese raising funds for burials in abortion case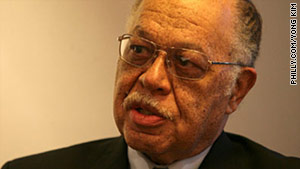 Dr. Kermit Gosnell is accused of killing seven viable babies in illegal abortions.
STORY HIGHLIGHTS
Archdiocese of Philadelphia starts fund to pay for burial of fetal remains
The remains are considered evidence in murder case against abortion doctor
Dr. Kermit Gosnell is accused in the death of a woman and 7 viable babies
Archbishop: "We can't undo the crimes ... but we can make an effort to bury these children"
Philadelphia (CNN) -- The Archdiocese of Philadelphia is collecting donations in an effort to pay for the burial of fetal remains found in the clinic of a doctor who is accused of killing newborn babies during illegal abortions.
Such a burial will have to wait, though, prosecutors say, because the remains are evidence in the case against Dr. Kermit Gosnell.
"It's an extremely unusual case and unusual request," said Tasha Jamerson, spokeswoman for Philadelphia District Attorneyıs Office.
"We appreciate their reaching out to us," Jamerson said of the archdiocese, "but this is a criminal case. It will be a long process. There is nothing we can do."
Gosnell is accused of causing the death of one of his female patients and killing seven viable babies in illegal abortions, Philadelphia District Attorney Seth Williams said.
The babies were born alive in the sixth, seventh and eighth months of pregnancy, and their spinal cords were allegedly severed with scissors, Williams said.
According to the grand jury report, on February 18, 2010, a search team discovered the fetal remains "haphazardly stored throughout the clinic in bags, milk jugs, orange juice cartons and cat food containers. Some fetal remains were in a refrigerator, others were frozen."
The fetal remains are considered evidence and could possible become available only after the trial has concluded and, if necessary, all appeals exhausted, Jamerson said.
Soon after the story surfaced, the archdiocese received numerous offers from the public to help, resulting in the creation of the Archdiocesan Infant Memorial Fund, said Cardinal Justin Rigali, the archbishop of Philadelphia.
The memorial fund will be used solely for burying the infants from the clinic, Rigali said. Any unused funds will be returned if the archdiocese cannot obtain the fetal remains. A funeral Mass or ceremony will be decided upon at a later date.
Rigali said the public response has been encouraging.
"It's a positive sign that people want to stand together in solidarity," he said.
"We can't undo the crimes or the horrendous acts, but we can make an effort to bury these children," Rigali said. "Bottom line is, every human being has dignity as a child of God."