Phillip Garrido found competent for trial in Jaycee Dugard case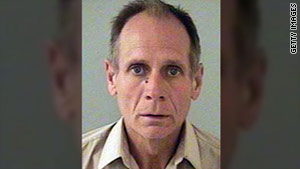 Phillip Garrido is accused of kidnapping Jaycee Dugard and holding her captive for nearly two decades.
STORY HIGHLIGHTS
The competency ruling clears the way for Garrido's arraignment
Phillip and Nancy Garrido face trial in the kidnapping of Jaycee Dugard
Dugard , 11 when she disappeared, was 29 when she was found
Placerville, California (CNN) -- A man accused of kidnapping then-11-year-old Jaycee Dugard and holding her captive for nearly two decades is competent to stand trial, a California judge ruled Thursday.
The decision clears the way for the trial of Phillip Garrido on charges of kidnapping, rape and false imprisonment to begin late this year, El Dorado County Superior Court Judge Douglas Phimister said.
Garrido's lawyers reached an agreement with prosecutors before Thursday's hearing and the defense waived the right to a jury trial on the issue of Garrido's competency.
Dugard was snatched from the street in front of her home in South Lake Tahoe, California in 1991.

2009: Garrido opportunities missed
Garrido and his wife, Nancy, are accused of holding Dugard in a hidden compound behind their home for 18 years.
Dugard was 29 when she was found in August 2009 at the Garridos' home in Antioch, about 120 miles from her house.
Nancy Garrido pleaded not guilty late last year to charges in connection with the case, and proceedings against her husband were suspended until a determination about his competency could be made.
The next court date in the case is February 28, when Phillip Garrido will be arraigned on the indictment returned by a grand jury last year. The arraignment had been delayed until the competency issue could be decided.
Nancy Garrido's case is set for a hearing on the same day, February 28. She has already been arraigned on the indictment against her.
In Session's Beth Karas contributed to this report.
FOLLOW THIS TOPIC