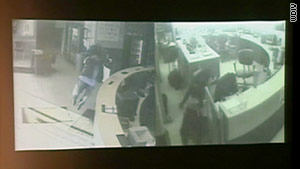 Lamar Deshea Moore walked into a Detroit precinct with a shotgun and fired, police say.
STORY HIGHLIGHTS
Police release compelling video of shootout at police precinct last Sunday
Detroit gunman was killed and four officers were injured
Police chief says video shows heroism of officers
(CNN) -- Detroit police released a graphic surveillance video Friday that shows a gunman indiscriminately firing inside a police precinct and lunging across a counter to continue a shootout in which he was killed and four officers were wounded.
Detroit Police Chief Ralph Godbee said his department released the 68-second video of last Sunday afternoon's gunbattle to show the "tremendous acts of heroism" of officers and to be transparent in its investigation.
Lamar Deshea Moore, 38, walked into the precinct with a shotgun and "indiscriminately began firing," Godbee said earlier in the week. Moore was fatally shot when officers returned fire.
Moore's motive is not known, although he was being investigated for possible sexual offenses involving a minor girl. He also had a relative who was scheduled to be sentenced for double homicide, Godbee said.
The video does not show all of those involved in the incident, Godbee told reporters. "We are thankful to God that all four members who were injured are going to be OK," he said.
The footage provides two angles of the station and a large semicircular counter. Officers are shown talking with each other behind the counter before the gunman approaches and opens fire.
A shoe repairman also was in the station, police said.
Several officers crouch and return fire with handguns. After a barrage of rounds, Moore, clad in a jacket, leaps over the counter and continues the gunfire.
He and a seriously wounded officer exchange rounds at point-blank range, before he circles around the table and collapses, mortally wounded.
Assistant Police Chief Chester Logan walked reporters through the video, detailing the timeline. The gunman apparently ran out of ammunition, Logan said.
The video was broadcast Friday night by CNN affiliate WDIV.
Other Detroit officers had gone by Moore's home several hours before the shooting at the precinct, but he was not at home, Officer Dan Donakowski told CNN this week.
The home where Moore was staying caught fire early Tuesday and was heavily damaged, police said. Detroit Fire Capt. Kwaku Atara told CNN on Wednesday the fire has been ruled arson.
According to an affidavit filed Tuesday by the U.S. attorney's office in Detroit, Moore obtained the shotgun used in the precinct shooting from a felon, although the affidavit does not specify how the gun was obtained.
Two of the injured officers have been released from the hospital. Cmdr. Brian Davis, who was shot in the back and suffered other injuries, and Officer David Anderson, who was grazed in the head, were facing a longer recovery, authorities said.
The shooting has led to the reassessment of security measures by police officials. According to the chief, Detroit Mayor Dave Bing has committed to bringing in resources necessary to provide a safe environment, and interim measures will be put in place.