With doctor in jail, brother of dead woman vows, 'We want justice'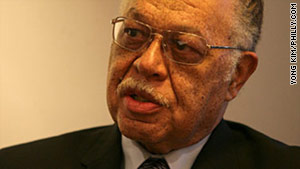 Dr. Kermit Gosnell faces seven first-degree murder charges related to his abortion clinic.
STORY HIGHLIGHTS
Philadelphia doctor Kermit Gosnell is being held on eight murder charges
Seven are for the deaths of viable babies, one is for 41-year-old Karnamaya Mongar
"It's unforgettable. My sister will never come back," says Mongar's brother
Gosnell headed an abortion clinic where Mongar was treated
(CNN) -- The brother of a woman who prosecutors say died during complications from an abortion at a Pennsylvania medical clinic hopes the doctor who performed allegedly illegal procedures will never practice again.
"We want justice, this doctor has to be out of that clinic or he should not be treating anybody," Damber Ghalley told CNN Monday, referring to his sister, 41-year-old Karnamaya Mongar. "And the things that happen to my sister, I don't want to happen to anybody in the future."
Dr. Kermit Gosnell is charged with seven first-degree murder charges related to the deaths of seven viable babies, and one third-degree murder in the death of Mongar. He is being held without bail.
Mongar died November 20, 2009, after overdosing on anesthetics prescribed by the doctor, Philadelphia District Attorney Seth Williams said. Williams called the facility "a house of horrors" that performed "botched and illegal abortions" and that was full of containers of fetuses' body parts.
Ghalley agreed, telling CNN "the clinic was so dirty, filthy with blood stains and a dirty floor, everywhere dirty, I cannot describe how dirty it was."

Doctor accused of murdering newborns

Kermit Gosnell thought he was doing good
Mongar's family filed a lawsuit last week against Gosnell's practice seeking damages, the family's attorney, Bernard Smalley, said.
"It's unforgettable, my sister will never come back and it's sad," Ghalley said. "All the happiness is gone, they miss their mother every day and night," Ghalley said, referring to Mongar's four children.
Born in Bhutan, Mongar spent 18 years living in a bamboo hut in a Nepalese refugee camp before coming to the United States in July 2009 as part of a humanitarian resettlement program, Smalley said. The mother of four and grandmother of one was 19 weeks into her pregnancy when, after getting a referral from a Washington, D.C., medical clinic, she went to Gosnell's practice.
There, Smalley said, "an unlicensed high school student" -- who got instructions from Gosnell over a cell phone -- gave the woman anesthesia, and there was no equipment to resuscitate her once things went wrong.
"These children have to grow up without their mother, you have a husband who is going to have to go on without his wife," Smalley said of Mongar's family. "There will be justice at the end of the day, but at what price? They've lost a loved one who can never come back."
Gosnell is next scheduled to appear in court on February 9.