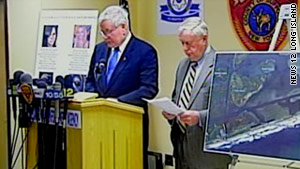 Officials have identified a total of four bodies found in an isolated strip of waterfront property.
STORY HIGHLIGHTS
The three women were all in their 20s
Their bodies were found in December on an isolated strip of waterfront property
A fourth body was identified last week as a 22-year-old Maine woman
Police said the four deaths could be the work of a serial killer
New York (CNN) -- Police say they have identified three bodies found on Long Island, New York, last month, and the deaths may be the work of a serial killer.
The bodies of Maureen Brainard-Barnes, 25, of Norwich, Connecticut; Melissa Barthelemy, 24, of Erie County, New York; and Amber Lynn Costello, 27, of North Babylon, New York, were discovered on an isolated strip of waterfront property in Gilgo beach, according to a Suffolk County police statement Monday.
Authorities last week identified a fourth body found in the same area as that of 22-year-old Megan Waterman of Scarborough, Maine.
The bodies were discovered by accident when police were searching for a missing woman, according to Suffolk County Police Commissioner Richard Dormer.
The bodies were in various stages of decomposition and at least one could have been there for as long as two years, he said.
All were discovered on a quarter-mile stretch of land, "which indicates they were dumped there by the same person or persons," Dormer said. "It's too coincidental that there were four bodies in the same location."
"Common sense tells us it's not a coincidence," said Suffolk County Detective Lt. Gerard Pelkofsky.
A strange series of events preceded the discovery in December when a Long Island resident -- who lives a few miles from where the bodies were found -- said a young woman who "looked like she was partying all night" came to his door at about 5 a.m. on May 1.
"She was screaming 'Help me, help me!' and said somebody was chasing her," said Gustav Coletti, who lives in the town of Oak Beach.
He described the woman as a "young, light-brown-haired person in her early 20s."
Coletti said he called 911 after opening his front door to the woman, prompting her to flee into the weeds along an embankment near his house.
Moments later, Coletti said, an Asian man driving a dark-colored sport utility vehicle pulled up alongside his home, looking for the woman.
"Things got out of hand at a party and I'm just looking for her," Coletti quoted the man as saying.
When Coletti informed him that he had called the police, the man said that he "should not have done that" and drove off in the direction of where girl had fled, Coletti said.
Authorities were searching in the area when they found the first body, and three more were discovered the following Monday, Suffolk County police said.
Police are offering a reward of up to $5,000 for information leading to an arrest in the case, asking anyone with tips to contact the Homicide Squad at 631-852-6392 or Crime Stoppers at 1-800-220-TIPS.
FOLLOW THIS TOPIC