STORY HIGHLIGHTS
As many as 300,000 underage girls are being sold for sex in America
Because there are few facilities to help them, many end up in jail or back on the streets
A Las Vegas-area judge is trying to build a facility there to help these young women
Advocates: More federal money helps foreign sex trafficking victims than U.S. victims
Editor's note: After a yearlong investigation, CNN reveals the devastating realities of the business of underage sex. Don't miss CNN Presents "Selling the Girl Next Door" Sunday, January 23 at 8 p.m. ET on CNN.
Las Vegas, Nevada (CNN) -- Every week, Judge William Voy of the Clark County Juvenile Court in Las Vegas holds a special session for underage sex trafficking victims picked up by police in Las Vegas.
Most are runaways, controlled by pimps. And every week Voy faces the same problem: where to put them. Under the law they're considered victims.
The right thing to do is get them help, but most times he can't, because there's nowhere to put them.
"We can't get to the next level," says Voy. "And it's extremely frustrating."
According to the Center for Missing and Exploited Children, there are anywhere from 100,000 to 300,000 underage girls being sold for sex in America.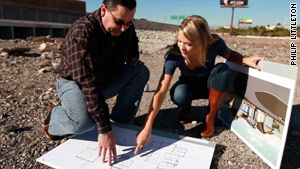 Judge William Voy shows CNN's Amber Lyon the plans to create a house for victims of sex trafficking.
For those hundreds of thousands of girls, according to a Justice Department report released in the fall, there are 50 beds in facilities capable of dealing with their complex and deeply entrenched problems.
For five years, Voy has been trying to change that in his city by building a specialized residential home for the hundreds of girls who go through his court every year.
"It's not a detention center, it's not an institution," says Voy, showing us architectural drawings on a vacant lot where the house would be built. "It looks like another wealthy homeowner in Vegas, right? And that's what we want it to look like. These kids are messed up in a lot of different ways. And they need a lot of help."
He has private donors willing to pay for the building and the land, but Clark County has so far refused to come up with the $750,000 needed to staff the place with uniformed officers.
A new bill that passed both houses of Congress last year would provide $45 million over four years for these kinds of services, a small amount of money given the need, but at least a start.
But that bill, the Domestic Minor Sex Trafficking Deterrence and Victims Support Act, never made it to the president's desk, and now that there's a new Congress, it will have to start from square one.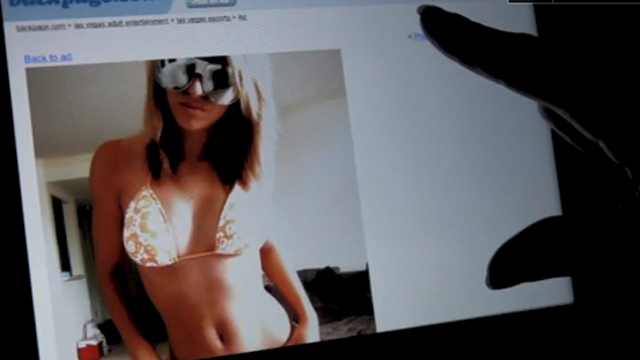 Uncovering America's dirty little secret

Girls bought and sold online

Men who buy sex
There is money available to care for foreign victims of sex trafficking provided under an act called the Trafficking Victims Protection Act. But anti-trafficking advocates say none of that money has gone to help American girls.
"Not one cent of that money has been put towards domestic victims," says Malika Saada Saar of the Rebecca Project, a Washington based human rights organization. "There has not been the political will to include domestic trafficking victims."
That leaves the girls who go through Voy's court with few good options.
Sometimes there's a place for them in a state home, but that facility has no particular expertise with trafficking victims.
Sometimes Voy finds them a place in a facility out of state. More often they simply stay in jail, locked in cells.
No one thinks this is where they belong, but no one wants to turn them loose on the streets, where pimps lie in wait.
Voy keeps an old case on his desk to remind himself of the danger of releasing these girls back onto the streets. It is the case of one girl who still haunts him.
"This was back in February of '09," he says, scanning the files. "She was released on February 7 and she was found dead on February 10. She was murdered and her throat was cut."
It was a hard lesson.
"You can always theorize that, 'Yeah maybe they'd be alive.' But this one I know it, I know it."
FOLLOW THIS TOPIC