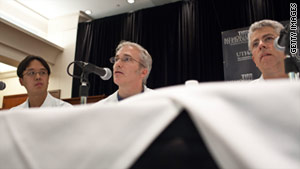 Doctors at Memorial Hermann-Texas Medical Center say Rep. Gabrielle Giffords is "doing very well."
STORY HIGHLIGHTS
Doctor: Giffords "does not need as much assistance as we had anticipated"
She will remain in ICU while fluid is drained off her brain
The rehabilitation process is expected to take 4 to 6 months
Houston (CNN) -- Doctors at the Houston hospital where U.S. Rep. Gabrielle Giffords was transferred said that while she remains in intensive care, she has surprised them with the progress she has already made.
Giffords, 40, who was shot in the head at a public event in Arizona on January 8, was transferred Friday to Memorial Hermann-Texas Medical Center. It was thought the congresswoman would begin rehabilitation at The Institute for Rehabilitation and Research (TIRR) Memorial Hermann, but officials said she was taken instead to the hospital's trauma center for evaluation and treatment.
"She's not quite ready for rehabilitation yet," Dr. Dong Kim of Memorial Hermann told CNN on Thursday. Kim would not elaborate, but on Friday, Dr. John Holcomb told reporters that Giffords has fluid on her brain.
"There's a little fluid collection that the docs have put a drain into, around her brain, and that drain is still in place," he said. "With that drain in place, she can't leave the ICU."
He said Giffords will remain in the hospital while "this drain business" is sorted out and doctors make sure no infection is developing. During that time, she will undergo rehabilitation in the intensive care unit, as she was at Tucson, Arizona's University Medical Center.

Rep. Giffords doing well after transport
That rehabilitation was under way on Saturday, Dr. Gerard Francisco, the hospital's medical director, told reporters.
"She's doing very well," he said. The exercises involve moving, sitting and standing, he said. "We're still in that phase of discovering what she can and cannot do so we can come up with the best combination of therapy."
Giffords "surprised us," he said. "She did not need as much assistance as we anticipated."
Doctors had said earlier that Giffords has been able to stand with assistance. "She's activating her muscles even more than what I had anticipated," Francisco said.
Giffords has a breathing tube in her neck and cannot talk, but Francisco said he believes she is trying to communicate. She is very responsive to others, and follows commands. He said doctors were particularly encouraged by Giffords' bringing her left leg, which was dangling off the side of the bed, up onto the bed.
Giffords has good movement and muscle tone on her left side, he said, and some on her right side as well, although not as much as the left. She was shot in the left side of her brain, which controls her right side.
Arizona doctors said Giffords' transfer went flawlessly. Dr. Randall Friese of the UMC trauma center said that at some points as she traveled through the streets of Tucson, Giffords could hear applause from those who turned out to honor her. "She responded very well to that," he said, smiling and even tearing up a bit. "It was very emotional."
Six people died in the shooting at a Tucson supermarket earlier this month, including a federal judge and a 9-year-old girl. A total of 19 people were shot. Giffords is the only one who remains hospitalized.
Police said they believe suspect Jared Lee Loughner, 22, targeted Giffords in the attack. Loughner is in custody and facing federal charges.
Despite reaching a series of milestones, Giffords has a long road ahead, doctors have said. Once she enters rehabilitation, the process is expected to take four to six months.
CNN's Elizabeth Cohen contributed to this report
FOLLOW THIS TOPIC