Suspect in Irish newlywed death to appear in court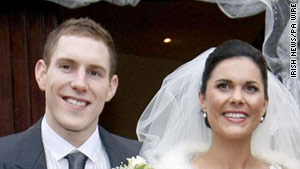 Michaela Harte-McAreavey, killed while on her honeymoon with John McAreavey, was buried in her wedding dress.
STORY HIGHLIGHTS
The fifth suspect arrested so far gets a Friday court date
4 other suspects will remain in custody until their next court appearance, police say
Michaela Harte-McAreavey was found dead in her honeymoon hotel
Police say they believe she surprised men as they were burgling the room
(CNN) -- A hotel security guard arrested over the death of an Irish newlywed who was strangled on her honeymoon will appear in court Friday, police in Mauritius said.
Seenarain Mungroo, 39, was arrested Wednesday and was questioned about conspiracy to commit a crime, authorities on the Indian Ocean island said.
Four other people arrested in the case appeared in court Wednesday, authorities said. All four were ordered held and are next due in court on January 26.
Michaela Harte-McAreavey, 27, was found dead January 10 in her hotel room. An autopsy showed that she died of asphyxiation.
Dassen Narayanen, a 26-year-old security officer at the Legends Hotel, has been charged with conspiracy, according to police.
Room attendant Avinash Treebhoowoon, 29, and Sandip Moneea, 41, a floor supervisor, have been charged with murder. Room attendant Raj Theekoy, 33, faces a conspiracy charge. Police said one of the men has confessed and participated in a reconstruction of the crime.

Gaelic football star's wife killed
Authorities have said they believe the group was burglarizing the room when Harte-McAreavey returned and surprised them, leading to the attack.
The killer used an electronic key card to enter the room, police said. The former beauty queen's husband was in the restaurant of the hotel when his wife was killed, and is not a suspect, authorities have said.
Thousands of mourners attended Harte-McAreavey's funeral Monday at the same Catholic church in County Tyrone, Northern Ireland, where she married Gaelic footballer John McAreavey on December 30. She was buried in her wedding dress in the graveyard next to the church.
In the Northern Ireland Assembly on Monday, Northern Ireland First Minister Peter Robinson said memories of the slain honeymooner had united people in grief.
"Any life taken away by murder is a horrific event, all the more so when it is of a young person," he said. "The loss is even more harrowing and devastating because the victim in this case was a beautiful young woman who was on her honeymoon.
"This is one of the rare tragedies that has captured public attention and united the community in grief."
FOLLOW THIS TOPIC


Most popular stories right now