STORY HIGHLIGHTS
Cherrie Mahan was 8 when she vanished in Pennsylvania in February 1985
She got off a school bus but never made the 200-foot walk to her home
Cherrie Mahan's missing persons flyer was one of first sent by direct mail
Know something? Call the Pennsylvania State Police at (724) 284-8100
"AC360°" is investigating some of the nation's most notorious cold cases. Watch nightly at 10 ET.
(CNN) -- Cherrie Mahan was 8 years old when she disappeared from her bus stop one day after school in 1985. Now, nearly 26 years after she vanished, the lead investigator says there could be a break in the case.
"Recently, a person contacted Pennsylvania State Police, and they have the potential to be crucial to the investigation in the future," Trooper Robert McGraw said. "We're highly optimistic that this lead has the potential to bring closure to Cherrie's family."
Cherrie was the first child to appear on a "Have You Seen Me?" mailer, soon after she disappeared February 22, 1985.
She was last seen getting off a school bus and was supposed to walk 200 feet to her home in rural Winfield Township in western Pennsylvania. On any other day, her mother would have been there to meet her.
"I should have been there when Cherrie got off the school bus, and I wasn't," Janice McKinney told CNN's Randi Kaye. "Four o'clock, the bus came, and we heard it. And she just never came up the driveway."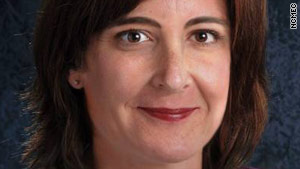 If she is alive, Cherrie Mahan might now look like this age-progressed photo.
Since that moment, Cherrie's mother has been living every parent's nightmare. "I think my guilt started at that point, because up until that day, I was there. And if I would have been there, I wouldn't be going through this," she said.
Children on Cherrie's school bus described a light blue van with a mural of a snowcapped mountain and a skier painted on the side that was parked right behind the bus stop. Investigators believe the van could've been involved in the girl's disappearance.
There was snow on the ground the day Cherrie vanished but no footprints leading to her house, suggesting to investigators that she didn't get far and was picked up quickly.
"I believe Cherrie was abducted by someone she knows very well," McGraw said. "And I believe this person had the ability to basically lure Cherrie to their vehicle without her giving it a second thought prior to her disappearance."
After Cherrie's disappearance, her mother didn't want to go through life without a child. Five years later, she had a son named Robert. He's now in his 20s. His mother kept him extremely close during his entire childhood for fear that he too could be taken away from her.
"He's never, ever gone anywhere without somebody," she said in 2005. "I mean, from the time he was able to walk, until this day ... I go to every soccer game. I stand by the door, you know, worried that somebody could come in and take him."

Girl becomes symbol for abducted kids
Cherrie's mother just wants to know what happened to her little girl. At the family's cemetery plot, there is a statue of an angel for Cherrie, not a gravestone, because her mother can't bring herself to place one there until she knows the truth.
"I have resigned myself to the fact that Cherrie is OK, whether she is dead or alive. If she's dead, my family is taking care of her. If she's alive, someone else is taking care of her," she said. "All I pray for now is to know one way or the other."
The mystery also weighs heavily on McGraw. Three investigators worked the case before him, all with the goal of solving it before they retired and all leaving the force coming up short. It's never far from his mind.
"I can't imagine if that was my child. I can't imagine the pain her mother must wake up with every day," McGraw said. "It's hard not to be attached" to the case, he said, pausing to fight tears.
With the new lead, McGraw is hopeful that with perseverance and some luck, he can finally solve one of the most notorious cold cases in recent U.S. history.
"I have a picture of her on my desk," he said. "So any second of my workday, when I think that there is nothing on my plate or I have anything to do, that picture reminds me there is always something to do, because we don't know what happened to Cherrie."
CNN's Randi Kaye contributed to this story.
Watch Anderson Cooper 360° weeknights 8pm ET. For the latest from AC360° click here.
FOLLOW THIS TOPIC