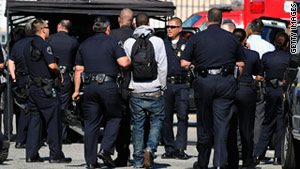 Police have described the shooting as an accident after a gun a student brought to school accidentally discharged.
STORY HIGHLIGHTS
NEW:The DA's office says there was "insuffient evidence" to charge the students
Another student was arrested after a gun he brought to school accidentally went off
The school violated district policy on daily random searches, spokeswoman says
Los Angeles (CNN) -- Two Los Angeles teens arrested after a shooting that wounded and hospitalized two of their fellow Gardena High School students, including one in critical condition with a head wound, will not be charged with a crime, police said Thursday.
A 17-year-old male student, a senior, was arrested Tuesday after he allegedly brought an automatic handgun in his backpack to a health class and the gun accidentally fired one round when the backpack was put on a desk, authorities said.
Later that day, police arrested two other students -- a boy and a girl -- on suspicion of being accessory to a felony, said Lt. Randy Brooks of the Los Angeles school police.
On Thursday, a spokeswoman for the Los Angeles County District Attorney Steve Cooley said no charges will be filed against those two students. We"declined to file due to insufficient evidence," said Jane Robison.
Meanwhile, incoming Los Angeles Unified School District Superintendent John Deasy has found that the 2,400-student Gardena High hadn't been performing daily random searches of students with a metal detecting wand, in violation of district policy, said schools spokeswoman Lydia Ramos.
The school system began checking all high schools Wednesday to ensure they are following the daily "random wanding" policy, said a schools spokesman, Robert Alaniz.
Authorities have described Tuesday's shooting as an accidental discharge. A single bullet wounded the two students, authorities said.
The 17-year-old boy fled the classroom, prompting a police search and a school lockdown for almost two hours, until he was found in another class, authorities said.
One of the two other students arrested had been accused of changing clothes with the 17-year-old boy after the shooting, and the other allegedly took the backpack and attempted to dispose of it, Brooks said. He couldn't provide further details on the male and female students, he said.
Brooks wouldn't say whether police have recovered the backpack.
The suspects had been in custody at a juvenile detention facility, Brooks said. He did not know what arrangements have been made for initial court appearances, he said.
On Wednesday morning, Deasy and departing superintendent Ramon Cortines held a closed-door meeting with 150 parents in which one or two of them stated Tuesday wasn't the first time a gun was brought to the school, Ramos said. Some parents suggested that children are afraid of the gangs in the area, the spokeswoman said.
School officials assured parents that the safest place for their children is in school, Ramos said.
Meanwhile, the 15-year-old girl who was shot in the head at Gardena High opened her eyes Wednesday and responded to commands to move her limbs, a physician said.
"This is a great sign for her to open her eyes and respond appropriately, and that is a very, very promising sign," said chief medical officer Gail Anderson Jr. of Harbor-UCLA Medical Center in Torrance, California. The girl, however, remained in critical condition.
A bullet struck her near the temple and exited the same area, fracturing part of her skull but not penetrating it, authorities said.
She had surgery Tuesday for a brain injury caused by the shock wave of the bullet. Doctors removed a piece of her skull to allow for brain swelling, which happens in the 48 hours after such an injury, Anderson said, and she is breathing through a tracheal tube.
"We want her to breathe on her own once the tracheal tube is removed," he said.
The 15-year-old boy also wounded in the shooting was in better shape.
"The boy could potentially be released in the next day or two," Anderson said. The girl has "got a longer hospitalization -- certainly days or weeks in all likelihood."
When the girl arrived at the hospital by ambulance, she was unconscious, said Dr. Scott Bricker. "She already had signs of a significant brain injury" from the shock wave of the bullet striking her skull, he said.
Physicians didn't find any evidence of bullet fragments, Anderson said.
Students who witnessed the shooting gave statements to authorities Tuesday and will be given an opportunity to speak to counselors, if needed, said the chief of Los Angeles Unified Schools District police, Steve Zipperman.
Los Angeles Mayor Antonio Villaraigosa issued a statement Tuesday saying he is keeping the victims and their families in his prayers.
"No student should ever fear for his or her life within the halls and classrooms of our schools," the mayor said. "We must work together to ensure safety in and around our schools so that all students can benefit from an environment conducive to learning."
In 2002, two students were seriously wounded in another shooting on the Gardena High campus when three other students demanded money from one of them, the Los Angeles Times reported. Both students recovered from the gunshot wounds, and the three student assailants were sentenced to jail, the newspaper reported.
CNN's Stella Chan, Linda Hall, Sonya Hamasaki and Sara Weisfeldt contributed to this report
FOLLOW THIS TOPIC