New York TV executive accused of beheading wife to go on trial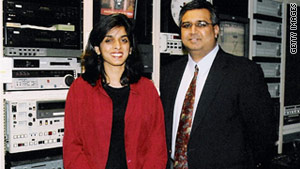 Muzzammil Hassan goes on trial Tuesday in the beheading death of his wife, Aasiya Hassan.
STORY HIGHLIGHTS
Muzzammil Hassan reported the death of his wife to police in 2009
He founded a television station aimed at countering Muslim stereotypes
Aasiya Hassan had filed for divorce less than a week before her body was found
Read more about this story from CNN affiliate WIVB.
(CNN) -- The trial of a New York television executive accused of beheading his wife starts Tuesday.
Authorities learned about the incident in February 2009 when Muzzammil Hassan went to a police station in the Buffalo, New York, suburb of Orchard Park and told officers his wife was dead, police have said.
Hassan, who founded a TV network aimed at countering Muslim stereotypes, took officers to the network's office where officers found the decapitated body of his wife, Aasiya Hassan.
Hassan has pleaded not guilty to the charge of second-degree murder in the case.
Opening arguments in the case are scheduled for Tuesday morning, CNN affiliate WIVB reported. The trial has been delayed many times, and Hassan has fired three defense attorneys before finding a suitable one, the affiliate reported.
Hassan was the chief executive officer, and Aasiya Hassan was the general manager of the network.

Trial to begin in decapitation case
He launched Bridges TV, billed as the first English-language cable channel targeting Muslims inside the United States, in 2004.
At the time, Hassan said he hoped the network would balance negative portrayals of Muslims following the attacks of September 11, 2001.
His wife filed for divorce less than a week before her body was found.
Police said they had responded to several domestic violence calls at the couple's home but no one had ever been arrested.
FOLLOW THIS TOPIC