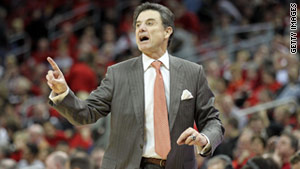 Louisville basketball coach Rick Pitino says the woman asked for cars, college tuition and monthly payments.
STORY HIGHLIGHTS
Karen Sypher was initially set for sentencing Tuesday but it has been postponed
She is now scheduled to be sentenced February 18
A jury convicted her in August of trying to extort millions from coach Rick Pitino
Her new defense team is pushing for a new trial, citing new evidence
(CNN) -- Sentencing for a woman convicted of trying to extort millions of dollars from University of Louisville basketball coach Rick Pitino six years after having sex with him at a Kentucky restaurant has been delayed as her new defense team pushes for a new trial, according to court documents.
Last week, U.S. District Court Judge Charles Simpson III issued an order delaying Karen Cunagin Sypher's sentencing -- which was initially set for Tuesday -- until February 18.
Simpson said in the order the delay was necessary because a second revised presentence report was received January 11 and that Sypher and her attorneys have 14 days to object to it, saying sentencing Sypher before responses are received or two weeks have elapsed would be "inappropriate."
The judge also noted that Sypher's attorneys had filed a motion for a new trial on January 5, and federal prosecutors have not yet responded. They have until January 24 to do so.
"It would also be inappropriate to sentence the defendant before her motion for a new trial is resolved," Simpson wrote.
While defendants can be sentenced absent a response to a motion for a new trial, they cannot be sentenced unless the proper time has elapsed for a response to a pretrial report, said Stephanie Collins, spokeswoman for the U.S. attorney's office in the Western District of Kentucky.
A Kentucky jury last August 5 found Sypher guilty of three counts of threats with intent to extort money, two counts of making false statements to authorities and one count of retaliation against a victim.
Sypher's new defense team filed the motion for a new trial, pointing to what it called "newly discovered evidence" in the case. Some of that evidence, according to the motion, involves Sypher's former attorney, Dana Koster. A former employee of Koster has filed an affidavit impeaching Koster's testimony at Sypher's trial. In addition, defense experts have challenged the authenticity of photos and telephone calls used as evidence in the trial.
One of the most well-known coaches in all of men's college basketball, Pitino headed teams at Providence College and the University of Kentucky -- as well as the New York Knicks and Boston Celtics in the National Basketball Association -- before taking over at Louisville 10 years ago.
But his past, and future, came under fire after reports of a tryst with Sypher became public. Then, as now, Pitino had five children with his wife, Joanne, who had long been a fixture at his games.
According to court testimony, Pitino and the woman -- who then went by the name Karen Wise -- had sex once in 2003 in a Louisville restaurant.
Weeks later, the woman called Pitino to say she was pregnant and had no health insurance, according to court records. He testified that he gave her $3,000, money she said she used to get an abortion. The woman, though, told Sports Illustrated magazine that she never asked for, and never got, any money from the coach.
Yet, while the woman claimed later that the sex with Pitino was not consensual and claims he raped her twice -- including at a later meeting -- she also never urged police to pursue charges against the coach.
Authorities investigated the rape allegations, but they were thrown out because police could not substantiate them, Collins said.
The next year, Karen Wise changed her name after marrying Tim Sypher, then the equipment manager for the Louisville team and former personal assistant to Pitino. The matter of her sexual liaison with his boss though didn't become a major issue again until February 2009.
At that time, a man later identified as Karen Sypher's friend, Leslie Goetzinger, left three voice mails for Pitino, according to an affidavit. On them, the coach said the male caller threatened that press reports could surface within weeks claiming Pitino raped Karen Sypher.
Karen Sypher and her husband later met with Pitino, with the woman denying any knowledge about the voice mails but still discussing possible payments by the high-profile coach, according to the affidavit. Those calls are the ones challenged by the motion for a new trial. An affidavit from a forensic expert is attached to the motion, which says at least two and possibly three callers left the messages.
The affidavit said Sypher then wrote out a list of demands -- including college tuition for her children, two cars, paying off her mortgage as well as $3,000 cash per month -- and a line stating, "If all is accepted, I will protect Rick Pitino's name for life."
A month later, in April 2009, an FBI agent probing the case filed a criminal complaint accusing Karen Sypher of extortion.
The issue gained fresh prominence in August 2009 when Louisville police released excerpts of phone calls and an interview with Karen Sypher. Within hours, Pitino called a news conference and derided the media for its reporting.
"All of this has been a lie, a total fabrication of the truth," he said. "It has been pure hell for her and my family. ... I admitted to you I made a mistake, and believe me I will suffer for that mistake."
The woman's trial began nearly a year later, with the defense rebutting the prosecution but not calling any witnesses of its own over the eight-day trial. The federal jury of six men and six women delivered its verdict after deliberating over two days.
FOLLOW THIS TOPIC