Trailer belonging to man accused of killing deputy is torched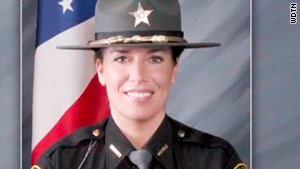 Deputy Suzanne Hopper, a mother of two, was shot and killed New Year's Day in Clark County, Ohio.
STORY HIGHLIGHTS
The trailer was home to Michael Ferryman, earlier killed in a shootout with police
The state fire marshal says the fire was "intentionally set," no one was hurt
Ferryman is the lone suspect in the New Year's Day death of Deputy Suzanne Hopper
(CNN) -- The camper home of a man suspected of killing an Ohio sheriff's deputy on New Year's Day was destroyed after being purposefully set on fire Saturday, authorities said.
"Because this is an ongoing investigation, specific details about how and where the fire was started will not be released at this time," the office of the state fire marshal said in a statement. "However, we can say that accidental causes were ruled out and specific evidence was found that indicates the fire was intentionally set."
The trailer suffered extensive damage and is a "total loss," the fire office said. No one was injured.
On New Year's Day, Clark County Sheriff's Office Deputy Suzanne Hopper, a mother of two, was shot and killed outside the trailer as she was investigating reports of gunfire in the area.

Deputy slain, another wounded
Additional officers then arrived at the Enon Beach trailer park in suburban Springfield, Ohio.
There they confronted Michael Ferryman, 57, later identified as the lone suspect in Hopper's death. He fired at police from inside his camper and was eventually killed.
A second law enforcement officer, Jeremy Blum, was injured in the shootout. He survived.
A $5,000 reward is being offered to anyone with information about who set the fire, according to the state fire marshal.
CNN's Frances Causey contributed to this report.
FOLLOW THIS TOPIC