Florida police chief charged with blocking case released on bond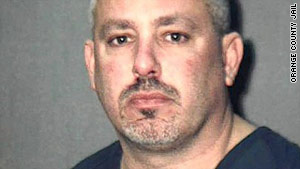 Police Chief Daniel Saylor faces felony charges of official misconduct and unlawful compensation for official behavior.
STORY HIGHLIGHTS
Chief's friend charged with sexual assault of minor under 12
Police official charged with offering benefits to stop investigation
Orlando, Florida (CNN) -- A central Florida police chief arrested and charged with derailing an investigation into the alleged rape of a minor in order to protect a friend was released Thursday morning after posting bond.
Windermere, Florida, Police Chief Daniel Saylor, 44, was arrested Wednesday morning on felony charges of official misconduct and unlawful compensation for official behavior, according to the Florida Department of Law Enforcement.
Windermere is a small central Florida town adjacent to the exclusive gated community where Tiger Woods lives. Saylor was in the news after the car accident that precipitated news of the golf star's infidelity. Saylor was one of the few officials who would give reporters details about the November 2009 incident.
Saylor's friend Scott F. Bush, 50, also was arrested Wednesday and charged with sexual battery of a minor under 12, a capital offense, along with lewd and lascivious acts upon a minor, a third-degree felony. The alleged sexual battery occurred to a young girl between 2000 and 2003.
Orange County Circuit Court Judge C. Jeffery Arnold Thursday issued a $5,150 bond and ordered Saylor to have no contact with any member of the Windermere Police Department or Bush. The judge also required the police chief to surrender his service gun and any personal weapons within 12 hours of his release.
"We received information that Chief Saylor terminated an investigation by his department of a sexual battery of a child to keep a friend from going to jail," said Joyce Dawley, special agent in charge for the FDLE, at a news conference Wednesday in Orlando.
Orange County State Attorney Lawson Lamar said the chief offered police officers such benefits as time off with pay, promotions, letters of recommendation and transfers for destroying material evidence, such as investigation notes, and for giving false information to the FDLE.
In the second count, Lamar said the chief is accused of changing the time card for an officer "to pay them off."
Saylor, who joined the Windermere Police Department in 2002, has been suspended without pay, said Mayor Gary Bruhn. An Orange County Sheriff's officer will temporary sit in as Windermere's chief.
No other Windermere officers have been charged, but FDLE's Dawley said it's an ongoing investigation.
If convicted, Saylor could face 15 years in prison. Scott Bush, if convicted, could face life in prison.
FOLLOW THIS TOPIC