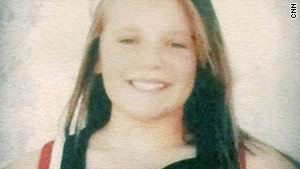 Hailey Dunn was last seen on December 27 in Colorado City, Texas.
STORY HIGHLIGHTS
Hailey Dunn was last seen December 27
Police have administered polygraph tests to her mother and her mother's boyfriend
Mother Billie Dunn described the party as a New Year's Eve "family gathering"
Read more about this story from CNN affiliates KTAB, KTXS and tune in to "Nancy Grace" on HLN tonight at 8 p.m. and 10 p.m. ET for the latest.
(CNN) -- Affidavits in the case of a missing 13-year-old Texas girl indicate her mother and live-in boyfriend failed polygraph exams on her whereabouts and they had a New Year's Eve party a few days after she disappeared.
But Hailey Dunn's mother, Billie Dunn, told HLN's "Nancy Grace" on Wednesday that the party was a family gathering and that alcohol was not served.
"We were pretty upset," about Hailey, Dunn said.
According to the affidavits, boyfriend Shawn Adkins ended two polygraph exams by walking out. On the third try, he failed the initial part of the test, but he then "made a positive indication" that the girl could be found in Scurry County, Texas.
Billie Dunn said Adkins was on anxiety medication at the time of the first test.

Cops: Mom partied after teen vanished
Billie Dunn was under the influence of narcotics on her first polygraph examination, and she failed the second, according to a law enforcement affidavit posted on the website of CNN affiliate KTAB in Abilene.
The affidavits were filed by law enforcement officials for the purpose of securing search warrants for evidence related to Hailey's disappearance, according to CNN affiliate KTXS.
Adkins was the last person to see the eighth-grade cheerleader on December 27 at Dunn's home in Colorado City, according to local reports. Colorado City -- a rural central Texas town -- is about 70 miles west of Abilene, Texas. Hailey was reported missing by her mother December 28.
Authorities indicated Wednesday they are looking at several "persons of interest."
The Colorado City Police Department responded to a domestic dispute in February 2010 after Adkins allegedly threatened Billie and Hailey Dunn, the released documents show. Adkins confirmed he did make the threats, according to documents.
Billie Dunn said she has no idea what happened to her daughter.
"Somebody knows where she is," she told HLN.
The mother said she and Adkins were interested in stories about violent crimes and murder. The affidavits claim her interest in such topics is a "hobby."
The affidavits also indicated Billie Dunn and Adkins made ATM withdrawals on December 27 to purchase drugs.
Hailey reportedly told Adkins she was going to visit her father and then a friend. Hailey's father, Clint Dunn, says she often came to his home but did not on that day.
Billie Dunn said she took the polygraph test after she was informed that Adkins had failed.
Woodrow Tripp, a polygraph expert, told "Nancy Grace" that troubles him.
''That absolutely would cause major problems emotionally as she's administered one. You want to try to minimize that as much as possible," Tripp said last week.
The night Hailey vanished, Dunn says she thought her daughter was sleeping over at a friend's house.
Dunn met Adkins on the MySpace social networking site more than two years ago, and he moved in with her several months ago.
Hailey is 5 feet, 2 inches tall and weighs 120 pounds. She has hazel eyes and brown hair with blond streaks. When she disappeared, she was wearing navy blue sweatpants, a light-colored short sleeve T-shirt and pink and white tennis shoes.
Colorado City Police, who said they could not discuss the affidavits, said there is no evidence the girl is in hiding or ran away.
"Law enforcement has treated the disappearance of Hailey Dunn as a criminal investigation and will continue to make every effort to follow all investigative leads," it said in a statement.
Authorities on Wednesday said they have searched 80 square miles across multiple counties. They have conducted hundreds of interviews and have followed more than 200 viable leads.