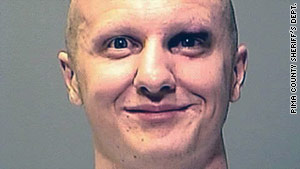 Jared Lee Loughner made his first court appearance Monday. He's accused in the deadly Arizona shootings on Saturday.
STORY HIGHLIGHTS
A federal judge reads the charges against Jared Lee Loughner, 22
He faces five federal counts, including murder and attempted murder
Loughner is also accused of attempting to kill a member of Congress
CNN's Ted Rowlands describes him as articulate and aware in court
Phoenix, Arizona (CNN) -- Jared Lee Loughner, the suspect accused of opening fire outside an Arizona supermarket over the weekend, appeared calm and in control during his first court appearance Monday, but gave no indication as to how he would plead to the charges.
The 22-year-old faces five federal counts connected to the Saturday rampage outside a Tucson grocery store, including murder and attempted murder. Six people were killed in the attack and 14 others wounded, including U.S. Rep. Gabrielle Giffords, who remains in critical condition.
Loughner appeared in the Phoenix courtroom of Magistrate Judge Lawrence Anderson shortly after 2 p.m. (4 p.m. ET).
Cameras were not permitted inside, but CNN's Ted Rowlands was present for the roughly 15-minute proceeding.
Loughner wore a tan-colored prison outfit, and his head was shaved. He appeared nervous at first, according to Rowlands. Loughner looked at the ceiling and his eyes darted back and forth. His hands and feet were shackled.
Loughner sat next to his lawyer and seemed to acknowledge things she said, according to Rowlands.

Tucson shooting suspect speaks in court

Shooting moment of silence bonds nation
A federal public defender known for handling high-profile cases, Judy Clarke, has been appointed to represent Loughner. Clarke previously defended the "Unabomber," Ted Kaczynski, and assisted in the case of confessed al Qaeda operative Zacarias Moussaoui.
During the proceeding, Clarke expressed "great concern" about having Arizona judges involved with the case going forward, signaling that she may try to move the case out of state or have an outside judge brought in to handle it.
Once Anderson took the bench, Loughner made his way to a podium. The judge read the charges against him and asked Loughner a series of simple questions: "Are you Jared Lee Loughner?" "Do you understand the charges?"
By Rowlands' account, the suspect appeared to understand what was happening. He answered the judge calmly and clearly, leaning forward into the microphone to be heard.
Loughner was not asked how he would plead and gave no indication as to whether he intended to fight the charges. A preliminary hearing was set for January 24.
If convicted of murder, he could face the death penalty.
Authorities have said the federal charges against Loughner include two counts of murder, two counts of attempted murder and one count of attempting to kill a member of Congress -- all stemming from the shootings of federal employees at the scene. One member of Giffords' staff was killed and two more were wounded. The gunfire also claimed the life of a federal district judge, John Roll.
Court documents released Sunday show that investigators found a letter from Giffords in a safe at the house where Loughner lived with his parents, thanking him for attending a similar 2007 event.
"Also recovered in the safe was an envelope with handwriting on the envelope stating 'I planned ahead,' and 'my assassination' and the name 'Giffords,' along with what appears to be Loughner's signature," an affidavit states.
Arizona prosecutors will likely also bring charges against Loughner.
Pima County Attorney Barbara LaWall said Monday that researchers are looking into whether her office can proceed with its charges simultaneously, or whether it has to wait until federal officials complete their work.
She also said that she knew Roll and Giffords personally and that for her the case hit home.
"There's a lot of connections between the victims in this case and the folks in my office," said LaWall.
FOLLOW THIS TOPIC