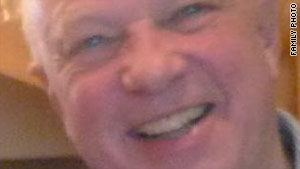 John Wheeler's body was discovered in a Delaware landfill in early January.
STORY HIGHLIGHTS
Cab driver says police have found Wheeler's cell phone
Classmate: It would have taken more than one person to dump Wheeler's body
The slain man was a "star man" at West Point
Wilmington, Delaware (CNN) -- Police have found homicide victim John Wheeler's cell phone, according to a taxi driver who was interviewed by investigators this week.
Athel Scott told CNN National Correspondent Susan Candiotti that police told him they found the cab driver's number in the phone of Wheeler, the former Pentagon official who was found dead in a Delaware landfill.
He said investigators wanted to know how his number got there. Scott, who goes by the nickname "Scottie," says he told the police he didn't have any idea.
"I never got a call from the man. I don't know him," he said, referring to Wheeler. "He's never been in my cab. I don't know how my number got in his cellphone," Scott says he told police.
Scott showed CNN a box of business cards he keeps at his side on the front seat of his cab. "See?" he said. "I give out these cards all the time to people looking for business. Maybe someone gave him my card."
The taxi driver says police went to his house Wednesday to ask him questions, but he wasn't home. Contrary to a published report in a local paper, Scott says his home was not searched.
They contacted him by phone and interviewed him at least twice, including an interrogation that lasted almost three hours Friday at the police station. "I don't know what's going on here. I'm just a hardworking man doing my job. It's like I'm being harassed," said Scott.
Meanwhile, a West Point classmate of Wheeler thinks it would have taken more than one person to pick the man up and toss his body into a dumpster.
Retired Col. Doug Thornblom was the freshman year roommate of Wheeler, whose murder has triggered intense investigations and widespread talk of motives.
"Jack was a big guy. He was about 225 pounds," Thornblom of Jacksonville, Florida, told CNN in an interview.
"I don't think one person could've lifted him the 5 or 6 feet off the ground, literally dead weight, and put him in a dumpster, and I don't think Jack could've crawled in there, not that he would've wanted to."
Wheeler's body was discovered in a garbage truck when it was dumping its load at a landfill in Newark, Delaware, on New Year's Eve. Police say the victim's body had been picked up by that truck from one of 10 dumpsters along a route in Newark.
Thornblom and members of an online West Point alumni message board have been shocked over the case and trying to understand the details that have emerged.
"The whole way his murder evolved is peculiar. He was out of contact for roughly 3-4 days. Apparently his briefcase, wallet and iPhone weren't with him at the time of his murder. Why would anyone hold him up or murder him brutally and then go to the trouble of lifting his body up and dumping it into a dumpster when he had nothing on him? That part does make us wonder a little bit," Thornblom said.
Wheeler, who was 66 and from New Castle, Delaware, had worked as a part-time consultant for the MITRE Corp., a not-for-profit organization that provides systems engineering, research and development, and information technology support to the federal government.
He had been working on promoting discussions about cyber-defense among governments, industry and academia, according to a company statement.
The West Point graduate was also the first chairman of Mothers Against Drunk Driving.
He worked in the administrations of presidents Ronald Reagan, George H.W. Bush and George W. Bush, and served as a special assistant to the secretary of the Air Force from 2005 to 2008.
Asked whether something Wheeler did could have made him a target, Thornblom speculated that it's "a low probability but I certainly wouldn't discount that."
"He was into a lot of government business and contracts. The whole cyber-security thing is very controversial and of course our enemies oppose us strengthening our defenses in that regard."
Thornblom had high praise for his late classmate. He describes him as "star man," who finished in the top 5% of the academy all four years of school, and "an all-around good guy" who was also a bit of a "prankster."
"He helped so many people because he was so smart, if folks were having problems with academics," he said.
After Thornblom started the Class of 1966 discussion forum, Wheeler participated and spoke his mind bluntly about a number of subjects. He was a proponent of defense issues and tough cyber-security.
"It sounds trite to say, but he was a true patriot," said Thornblom.
While Wheeler's body turned up at a landfill on December 31 he posted "normal sounding messages, typical Jack Wheeler stuff" as late as December 28.

John Wheeler's final hours 'bizarre'
"That information has been passed on and anything that we can do to help out the investigators of course. All they need to do is contact us and they have by the way. I've appealed to my classmates on the forum, if they have any recent contact with Jack where they may be able to shed some light on his state or some of the things that he was working on to please contact the investigators," Thornblom said.
Thornblom said there were "no signs of confusion" in Wheeler's posts.
"He sometimes posted stream of consciousness, and I think he did a lot of his posting via a train, and on his iPhone. From the rapidity and the changing of one thought to another, it was obvious he was in a hurry and trying to get a few points across. As far as being bizarre other than his intentionally joking manners and poking fun, no I wouldn't say that there was anything bizarre about his posts."
Thornblom said the last message was about Army football. Art Schulcz, another West Point classmate, told CNN he provided a copy of that last message to police.
"I went back and re-read it last night. There was no indication of any type of problem or anything else. As a matter of fact I re-read several of his most recent e-mails and I saw nothing that would indicate to me that there was anything physically or mentally wrong with him," Thornblom said.
Wheeler's message heaped scorn on the NCAA.
"And absolute football corrupts absolutely. NCAA is all about football money with platitudes-window dressing about values.
"To Hell with the NCAA and its corrupting Money Game.
"Who can or dares gainsay? Who can defend the money game and coach salaries and warped values and recruiting Bull..t?
"West Point should pull out of the fraud-ridden NCAA.
"All the good things can be done without NCAA.
"Jack"
One of the many issues about Wheeler is that he had been involved in a lengthy legal fight with a couple building a new home across the street in a historic district of New Castle, a project opposed by Wheeler.
The dispute may have become contentious but Wheeler's attorney, Bayard Marin, said "I can't recall a confrontation" and "Everything seemed to be kept within normal bounds."
Thornblom discounted speculation Wheeler would have been involved in an alleged smoke bomb incident at the construction site of the house.
"This is so out of character and I can tell you right now, all of us at West Point went through demolitions and mine-clearing technique training and even how to construct field expedient napalm. If Jack had wanted that house disappointed or burnt down, he would've done it. Nobody would have known about it. And he certainly wouldn't have been stupid enough to leave his iPhone there," Thornblom said.