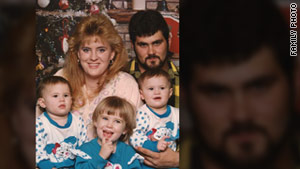 Cameron Todd Willingham, shown with his then-wife, Stacy Kuykendall, and their daughters, was executed in 2004.
STORY HIGHLIGHTS
Craig Beyler's report criticized investigators who ruled the Willingham fire an arson
Cameron Todd Willingham was convicted of killing his daughters and executed
Texas Gov. Rick Perry shook up the commission before Beyler could testify
Beyler: Investigators failed to rule out several possibilities
Get the latest from CNN affiliate KVUE.
(CNN) -- His testimony delayed for more than a year, an arson expert Friday sharply criticized the investigation that led to the 2004 execution of a man convicted of killing his three daughters in a house fire.
Craig Beyler has written that the finding of arson at the heart of Cameron Todd Willingham's murder conviction "could not be sustained," either by modern science or by the standards of the day.
"The basics of (this) investigation is such that you could not come to the conclusion that there were arsons, they are undetermined," Beyler, a Maryland-based fire science expert, told the Texas Forensic Science Commission on Friday, according to CNN affiliate KVUE.
"By their acknowledgment, child fire setting, somebody else coming in and setting the fire, are things they acknowledge were not ruled out," said Beyler. "And in this case, they shoveled out the bedroom in the Willingham case before examining the electrical evidence, so you can't rule that out as a cause."
Beyler was originally slated to lay out his findings to the commission in October 2009, but the hearing was put off after a controversial shakeup of the panel by Texas Gov. Rick Perry, who signed off on Willingham's execution.
Beyler testified Friday that the 1991 fire should not have been ruled an arson until all other causes were ruled out, KVUE said.
Williamson County District Attorney John Bradley, named by Perry as chairman of the commission during the 2009 shakeup, said that re-examining the case could amount to dangerous second-guessing.
"Looking back at people with a lack of information can be dangerous," he said, KVUE reported.
The commission also heard from John DeHaan, a California arson expert and author of a leading arson investigation textbook; Thomas Wood, a senior arson investigator for the Houston Fire Department; and Ed Salazar, the assistant state fire marshal.
DeHaan told the commission in a written statement that investigators in the Willingham case "relied on investigative methods and indicators that have been shown to be unreliable," but that their methods were "typical of investigations carried out at that time." And Wood told the commission that investigators were using the standard of practice that existed in Texas at the time of the 1991 fire, and that the standards now used were not adopted until nearly four years later.
The commission made no decisions Friday.
Willingham's daughters -- 2-year-old Amber and 1-year-old twins Karmon and Kameron -- died in the December 1991 blaze in Corsicana, south of Dallas. He was put to death in February 2004 after his appeals were exhausted, insisting in his final statement that he was innocent.
Two previous reviews of the evidence by forensic experts -- including one completed shortly before Willingham's execution -- have sharply criticized the conclusions of arson investigators who determined the fire was deliberately set. The authors of those reports, Gerald Hurst and John Lentini, were not on Friday's witness list, but have submitted written statements attacking the findings of investigators at the time.
But authorities in Corsicana have stood by the conviction, insisting that other evidence showed Willingham was responsible for the fatal blaze. Perry, who allowed the execution to go forward, has called Willingham a "monster" and reaffirmed his belief in the dead man's guilt.
Beyler's report was commissioned by the Forensic Science Commission and delivered in August 2009. The commission has been looking into the execution since 2008.
"The investigators had poor understandings of fire science and failed to acknowledge or apply the contemporaneous understanding of the limitations of fire indicators," it concluded. "Their methodologies did not comport with the scientific method or the process of elimination."
In October, Willingham's ex-wife, Stacy Kuykendall, said Willingham had confessed to her in the days before his execution that he had started the fatal fire. But Willingham never publicly admitted guilt, and his family has questioned Kuykendall's account of the confession.
Beyler's appearance was delayed by more than 16 months after Perry shook up the commission in 2009. The governor rejected calls to reappoint the panel's then-chairman and three other members who had voted to launch the Willingham investigation, leading to complaints that he was trying to squelch the investigation.
Bradley ordered a sweeping review of the commission's mandate and procedures after taking office and has been sharply criticized by the Innocence Project for calling Willingham "a guilty monster" -- language that echoed Perry's.
Bradley is a district attorney known as a hard-liner in capital cases. He told state legislators shortly after his appointment that he was not a "political pawn," but said the commission should not become a platform for opponents of the death penalty.
The commission took up the case at the request of Willingham's family and the Innocence Project. The New York-based nonprofit has pushed policy reforms aimed at exonerating people it believes were wrongfully convicted of crimes, and recently helped secure the freedom of another Texas convict who had spent 30 years behind bars for robbery before DNA evidence exonerated him.
Willingham's family has also asked a judge to posthumously declare Willingham innocent based on the evidence amassed since his trial. A state district judge in Austin opened a hearing into that request in October, but it was quickly halted by an appeals court after prosecutors in Corsicana demanded he recuse himself from the case.
The appellate court found the judge should have either stepped aside or referred the matter to the district court's presiding judge for a decision, halting proceedings until a new judge can be picked. Willingham's cousin, Pat Cox, called the decision "an obstacle but not a lost battle."
"Someone is going to be held accountable for Todd's death, and well they should," she told CNN on Thursday.
CNN's Matt Smith contributed to this report.
FOLLOW THIS TOPIC