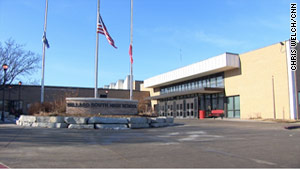 Flags fly at half-staff outside Millard South High School after Wednesday's deadly shooting.
STORY HIGHLIGHTS
Students resume school 2 days after shooting at Omaha high school

"It's no secret we're missing people," student says Friday morning

Vice principal killed, principal seriously injured

The suspect, a high school senior, killed himself after the shooting, police say

Omaha, Nebraska (CNN) -- Emotions were still raw as students resumed classes at Millard South High School on Friday, fewer than two days after a shooting caused panic and claimed the life of their assistant principal.
"It's very tense," Kyle Byers, 16, said via text message Friday morning, shortly after arriving at school. "I don't think I've ever been so close with my classmates until now.
"But there have been many hugs given from teachers and students and it helps -- but it still feels like something's missing."
Less than 48 hours ago, Byers and his fellow students were hunkered down in dark corners behind the locked doors of their classrooms as the gunman -- identified by police as student Robert Butler Jr. -- shot Principal Curtis Case and Assistant Principal Vicki Kaspar.
Kaspar died hours later; Case is in serious but stable condition.
"It's hard to focus," senior Shelby Piniarski said via text Friday morning. "Everyone's putting on a strong face but I know we're all thinking the same thing -- we're all gonna be in the same classroom we were a3 block of the day (when the shooting occurred)."

Town shaken after fatal school shooting

Shooting at Omaha High School

Police: School shooter is son of officer
Piniarski and Byers both knew Butler, a senior who police say killed himself after Wednesday's shooting. Piniarski said she was assigned to help him become better acquainted with the school after his recent transfer there.
"In the weirdest way i wanna hug every single one of my friends (and) tell my a3 teacher thank u," Piniarski said in the text.
"It's no secret we're missing people."
She said security is still high at the school, and officials are there to help students deal with their emotions.
"I've seen two different cops in the hall and lots of grievance counselors," Piniarski texted.
Thursday night, hundreds of students gathered at the school to remember Kaspar during an impromptu candlelight vigil Wednesday night when they first learned of her death and for a more organized remembrance the following night.
"She was just a great person to lean on," senior Taylor Anderson said as she fought back tears. "We're going to miss her a lot."
Former student Samantha Jo Pilkenton remembers Kaspar as one of a few administrators who didn't make the student body nervous when they saw her approaching in the hallway.
The community was holding out hope that she'd survive, she said.
"And then we found out that she passed away, it was -- I can't even describe -- I didn't have words," she said. "This isn't possible."
The vigils were a celebration of Kaspar's life, students said.
"It's been like crying and trying not to cry and like hugging and then crying more," Pilkenton said.
Students said Butler was a seemingly normal 17-year-old. He'd recently transferred from a high school in Lincoln, Nebraska, and had been attending Millard South for a couple of months.
Senior Brandon Oliva, 17, said the suspect had been called into Kaspar's office Wednesday morning.
"He ... said he was already in trouble. He knew he was gonna be in trouble," Oliva said.
There have been many hugs given from teachers and students and it helps - but it still feels like something's missing.
--Kyle Byers, 16, on classes resuming
Butler did not elaborate on why he was in trouble, the senior said.
Omaha police said Kaspar called Butler out of class Wednesday morning, apparently to discuss a criminal trespass citation he received on New Year's Day for driving his vehicle on the school's track and football field.
A security guard escorted him out of the building, and then he returned several hours later and opened fire, police said.
Butler was later found dead of an apparent self-inflicted gunshot wound in his car, according to police.
Police: Shooter had been disciplined
Butler was "a cool guy," Byers said.
"(He) was just like one of my friends. He's a funny guy from what I heard. So, I mean, nothing real different about him," Byers said.
Piniarski said she considered Butler a friend and feels like the whole ordeal is a dream.
"He had a really good personality. He loved his dad; he loved his car; he talks about his car constantly -- his Honda and the subs in his car," Piniarski said. "He loved basketball."
She said nothing seemed out of the ordinary recently. Butler had a certain fondness for "stirring things up," she said, but was not a "troublemaker."
"I don't think he was intentionally a cruel person. ... (He) liked to make kids laugh. Maybe 'class clown' would have been a better term."
Piniarski urged people not to point fingers.
"I think that everyone just needs to keep in mind ... that Robert was a kid," she said. "Kids do unfortunate things when they're angry and they don't know how to handle it.
"He wasn't a monster. It was an unfortunate event."
FOLLOW THIS TOPIC