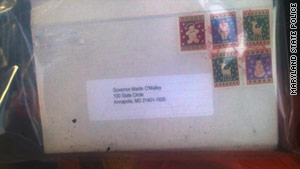 Police said one of the packages had holiday stamps, and both resembled the shape of a book.
STORY HIGHLIGHTS
The packages contained small white boxes with a battery and an electric match
A missive on homeland security road signs came with a device, a government official says
Two state employees suffered singed fingers
Reports of other suspicious packages were unfounded
Annapolis, Maryland (CNN) -- Mailed devices that ignited in two Maryland state offices each had a small battery and an electric match and were concealed in small white boxes, law enforcement officials said Friday.
Police have not yet identified a suspect, but the perpetrator faces a felony charge that carries a 20-year prison term, said the Maryland state secretary of police, Col. Terrence Sheridan.
"This is not a prank," Sheridan said. "Someone could have been seriously injured. This is not the way to get your point across."
Two Maryland employees suffered singed fingers Thursday when they opened packages containing the devices, which set off a flash of fire, smoke and a sulfur smell, officials said. Electric matches also are used in fireworks.
Based on the packages' destinations, a government official told CNN he thinks the person who wrote messages accompanying the devices was referring to flashing road signs posted on some Maryland roads that urge drivers to report suspicious activity.
The message accompanying the device sent to the Maryland Department of Transportation headquarters read: "Report suspicious activity. Total Bulls--t. You have created a self-fulfilling prophecy."
Sheridan held up a copy of the crudely crafted message at a Friday news conference. They were handwritten in all capital letters with the letter "X" underneath the message.
"If their ideology is they are trying to disrupt the government to get their point across, then they are a terrorist," Sheridan said.
"We don't believe that yesterday's event is going to end," he said. "We've got to make sure we go after this person and get them off the street and get them behind bars because these kinds of things are very, very dangerous. We just don't know where this person is going with this. We don't know who it is; we don't know what they're thinking about now."
The same message accompanied the other device, sent to a state office building in Annapolis and addressed to Gov. Martin O'Malley, was similar. Both packages carried white boxes that measured 7 inches long, 4 1/2 inches wide, and 1 inch deep.
Two additional reports of suspicious packages late Thursday were unfounded, Maryland State Police spokesman Greg Shipley said.
A package at the Maryland Department of Health and Mental Hygiene offices in Baltimore contained laptop computer batteries and was an expected delivery. A package at the Clarence M. Mitchell Jr. Courthouse in Baltimore contained a toner cartridge.
Police closed a part of I-95 for 90 minutes Thursday night to investigate two boxes left under a bridge. The boxes, they discovered, contained trash.
The packages containing the devices have been sent to the FBI lab in Quantico, Virginia, for examination.
Maryland State Delegate James King told CNN there were no threats before Thursday's incidents.
One of the packages had holiday stamps, and both resembled the shape of a book, police said.
"There are a lot of questions yet to be answered," said Shipley, adding that numerous federal, state and local agencies are involved in the investigation.
About 300 state employees were evacuated from the buildings after the devices ignited.
CNN's Mike Ahlers and Carol Cratty contributed to this report.
FOLLOW THIS TOPIC