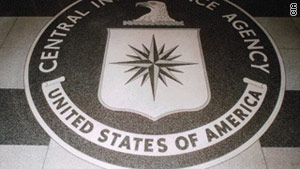 A former CIA officer has been accused of an unauthorized disclosure of national defense information.
STORY HIGHLIGHTS
NEW: Attorney in Virginia: "He's always maintained his innocence"
Jeffrey Alexander Sterling is ordered held in custody as a flight risk
Sterling is charged in a 10-count indictment; his next court date is Monday
Sterling worked in a top secret program at the CIA, the Justice Department says
(CNN) -- A federal judge in St. Louis ordered a former CIA officer held in custody as a flight risk Thursday after his arrest on charges that he disclosed secret defense information, a CNN affiliate producer who was in the courtroom said.
Jeffrey Alexander Sterling, 43, of O'Fallon, Missouri, is charged in a 10-count indictment with unauthorized retention and disclosure of classified information, mail fraud and obstruction of justice, the Justice Department said.
Sterling, wearing jeans, a long-sleeved green shirt and shackles on his legs, told U.S. Magistrate Judge Terry Adelman he understood the charges against him, according to KMOV reporter Steve Perron. Sterling was represented in court by St. Louis attorney Steve Welby.
Edward MacMahon, who represents Sterling in Virginia, where the case originated, told CNN that Sterling will eventually be brought back to U.S. District Court in Alexandria for trial.
"He's always maintained his innocence, and I'm sure he will when he gets to court," the attorney said.
Sterling's next court date is a detention hearing on Monday.
Sterling worked at the CIA from May 1993 to January 2002, the Justice Department said. One of his assignments was working on a top-secret operational program related to the weapons capabilities of certain countries. His role in that program included working with "a human asset," the department said.
He was fired from his job in 2002, it said, adding that he had filed discrimination complaints against the CIA before and after he left.
The indictment alleges Sterling stole classified information and orally disclosed the contents to a newspaper reporter who was writing a book.
The author of the book is not named in the indictment, but the case appears to match up with newspaper accounts about New York Times reporter James Risen, who was subpoenaed to testify about his confidential sources for his book "State of War: The Secret History of the CIA and the Bush Administration."
Joel Kurtzberg, a lawyer representing Risen, would not comment on whether Sterling was one of the reporter's confidential sources.
"(Risen) doesn't comment on any confidential sources," Kurtzberg said, adding that he has not provided any testimony or documents or cooperated in any other way with the government investigation about his sources.
In a prepared statement, Assistant Attorney General Lanny Breuer said, "through his alleged actions, Sterling placed at risk our national security and the life of an individual working on a classified mission."
The CIA would not comment specifically on the case, but spokesman George Little said, "Separate and apart from any specific instance, including this matter involving a former agency officer who left the CIA years ago, we take very seriously the unauthorized disclosure of classified information."
CNN's Jeanne Meserve and Carol Cratty contributed to this report
FOLLOW THIS TOPIC