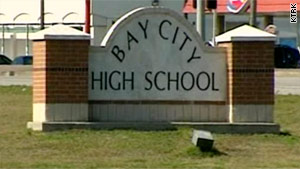 Attendance was at about 55% Thursday at schools in the Bay City Independent School District, officials say.
STORY HIGHLIGHTS
Superintendent of Bay City, Texas, schools has no plans to shut down classes
Threatening text message was sent in Bay City, south of Houston
Text followed release of a letter that threatened to kill students
Author complains of a lack of discipline in schools, claims to have a terminal illness
Check out a local report on CNN affiliate KTRK-TV in Houston.
(CNN) -- Security was tightened Thursday at a small Texas school district after an additional threat was made to students, the superintendent said.
Almost half of the students in Bay City schools have been out of classes since Tuesday, a day after officials disclosed an anonymous letter writer threatened to kill students unless "bleeding heart liberals" cracked down on discipline.
Superintendent Keith Brown told reporters he's hopeful police will be able to trace the source of a text message sent Wednesday night to many residents of the city 80 miles south of Houston.
The text read, "FWD: Hey! Forward this to everyone, (that letter)...1 rule broken, two girls die at the jr. high and 2 from high school, dnt go! The school will be on lockdown."
According to Brown, the district's schools have locked all exterior doors. Additional police patrols were added Thursday.
"We are taking the text message threat seriously; the person who sent the text message will be caught and prosecuted to the full extent of the law," the school system said in a statement.
While many school activities have been curtailed, Brown said classes would continue for the week. He said the threats are directed at people, rather than specific schools. Brown's family was personally threatened in the letter.
The FBI has offered assistance, said Brown, adding he did not know whether the two threats were related.
Bay City Independent School District published the threatening letter Monday in hopes that the public would help authorities catch the sender.
"We don't allow terrorism in Matagorda County, and we're going to fight this and have our community members help us solve the crime," Brown said.
Nevertheless, he said, about half of the district's nearly 3,800 students stayed home Tuesday. Attendance was at about 55% Thursday, a dip from Wednesday, officials said.
The letter, riddled with profanity and misspellings, demands that Bay City schools enforce quiet in their classrooms and stiffen detention and suspension policies. The author, who claims to be facing a terminal illness, said his or her child was attacked after telling "some kidds to shut up in class one day."
"You (expletive) bleeding heart Liberals have let the pice of (expletive) kidds run your schools. Now here are my rules. Break one and see what happens," reads the letter, received December 28.
The writer threatens to kill a random student if administrators ignore the demands, because Brown's own children "will be well garded by then."
"Your lack of student control has hurt my child and I am termanal and will only be with them for 18 months," the letter continues. "School will not be a nightmare for them."
The handwritten letter had a Bay City postmark, but a fictitious return address, Brown said. The letter has been turned over to state police in Houston, who are assisting in the investigation, along with an FBI agent, he said.
"This person chose the wrong avenue to direct their attention," the superintendent said. "They made a very poor choice. What they need to do is come forward, so they can get help in dealing with what the issue might be."
FOLLOW THIS TOPIC