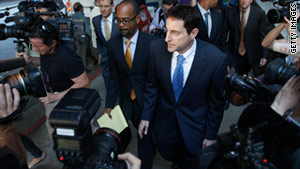 Anna Nicole Smith's lawyer-boyfriend, Howard K. Stern, praised the judge's decision.
STORY HIGHLIGHTS
Dr. Khristine Eroshevich is ordered to pay a $100 fine and serve a year probation
Judge Robert Perry dismisses all counts against Howard K. Stern
Stern calls the decision "a vindication for Anna"
Los Angeles (CNN) -- A judge Thursday set aside the convictions of Anna Nicole Smith's lawyer-boyfriend, Howard K. Stern, and all but one against her psychiatrist.
The multimillion-dollar, two-year prosecution of Smith's two doctors and Stern resulted in a $100 fine and one year of unsupervised probation for Dr. Khristine Eroshevich.
The charges were pushed two years after Smith's death by then-California Attorney General Jerry Brown, just before he launched his successful run for governor.
"Today, a judge has told him, 'You know, you should've kept your mouth shut to begin with,'" Stern defense lawyer Steve Sadow said. "There wasn't a case here and you shouldn't have brought it."
A third defendant, Dr. Sandeep Kapoor, was acquitted by a jury in October.
Los Angeles District Attorney Steve Cooley said his office will immediately appeal Perry's ruling.
"It diminishes the huge social problem of prescription drug abuse facilitated by irresponsible caretakers and unscrupulous medical professionals," Cooley said.
"There is no doubt," Perry said in his ruling, "that some doctors are nothing more than pill pushers and they should be prosecuted and imprisoned. This case did not involve such doctors."
Stern, Eroshevich and Kapoor, who are not charged in Smith's February 2007 death, were accused of conspiring to feed the drug addiction of the reality TV star and Playboy model and using false names to obtain the drugs.
The court concluded that their "overriding purpose was to protect her privacy," and there was no evidence Stern knew using a false name for a prescription was illegal, Perry said.
The only remaining count out of 23 charges was one against Eroshevich for using a false name to write a Vicodin prescription for the actress.
"There is no doubt Dr. Eroshevich acted out of heartfelt desire to help her friend," Los Angeles County Superior Court Judge Robert Perry said as he reduced the crime from a felony to a misdemeanor.
Eroshevich was by Smith's side much of the time when she was grieving over the death of her son, Daniel Wayne Smith, in the Bahamas, six months before her own death.
She said she felt "completely vindicated" by Perry's decision to drop all the charges but the one misdemeanor.
"I can deal with that," Eroshevich said. "It's not going to be the end of the world. It's not a felony. It's not jail."
Stern, who was Smith's constant companion and adviser, said the judge's decisions were "vindication for Anna."
"Essentially, the prosecution tried to portray her as messed up on drugs and cowering in the corner of her room, and nothing at all could be more inaccurate," he said. "She was grieving. After Daniel passed away she was suffering incredible pain and it seemed like they just entirely discounted it."
Perry, who Stern called "a very fair and honest judge," said it was his conclusion that Smith was not a drug addict under the legal definition in California law.
"Anna Nicole Smith had chronic pain syndrome," Perry said. "Her drug seeking was to relieve pain."
The doctors cared about Smith and were trying to help with her pain, he said.
The use of fake names to protect celebrities' medical information is necessary in this "media-driven society," where a celebrity's medical records "could easily be misunderstood by the public and harmful to their career," he said.
Perry cited the reports of Farrah Fawcett's medical information being leaked by employees at UCLA Medical Center when she was being treated for cancer.
FOLLOW THIS TOPIC