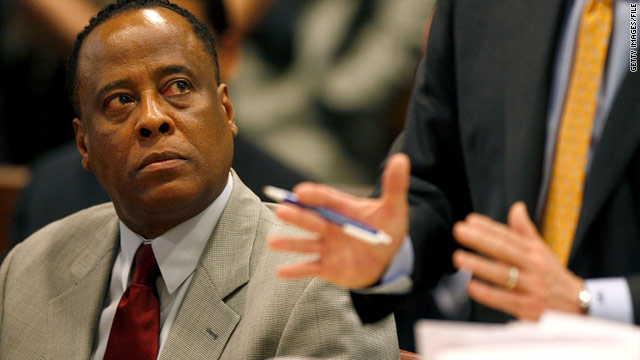 STORY HIGHLIGHTS
NEW: Dr. Conrad Murray asked guards if they knew CPR, witness says
Dr. Murray delayed calling 911 for 21 minutes, prosecutor says
Jackson was dead before the ambulance arrived, prosector says
Murray's preliminary hearing could last 2 or 3 weeks
Los Angeles, California (CNN) -- Dr. Conrad Murray seemed not to know how to administer cardiopulmonary resuscitation as he waited for paramedics to arrive at Michael Jackson's house, a witness at Murray's preliminary hearing testified Tuesday.
Former Jackson security chief Faheem Muhammed said he and and guard Alberto Alvarez saw Murray crouched next to Jackson's bed "in a panicked state asking, 'Does anyone know CPR?'"
"I looked at Alberto because we knew Dr. Murray was a heart surgeon, so we were shocked," Muhammed said.
When defense lawyer Ed Chernoff asked if perhaps Murray was only asking for help because he was tired, Muhammed said "The way that he asked it is as if he didn't know CPR."
Jackson appeared to be dead at that time, with his "eyes open and his mouth open, just laying there," he said.

Michael Jackson's doctor heads to court

Dr. Conrad Murray faces court hearing

A look back at MJ's death as trial nears
Prosecutor David Walgren earlier said that Murray used "ineffectual CPR with one hand while the patient was prone on a soft bed." Two hands with the patient prone on a hard surface is the proper method, he said.
Muhammed, the third witness on the opening day of the hearing, said he never saw Murray performing CPR on Jackson before paramedics arrived and carried him to Ronald Reagan UCLA Medical Center.
Jackson's mother, Katherine, sister La Toya, and brothers Randy and Jackie sat in the second row of the courtroom during Tuesday's opening session.
Jackson's two oldest children, Prince and Paris, were at their father's bedroom door as the drama unfolded just after noon on June 25, 2009, Muhammed said.
"Paris was on the floor on her hands and knees and she was just crying," he said.
The children would learn two hours later that their father had died when Dr. Murray and Jackson manager Frank Dileo talked to them in a hospital room.
"Frank blurted out and said "Your daddy had a heart attack and died," Jackson personal assistant Michael Williams testified.
Los Angeles County Superior Court Judge Michael Pastor will decide whether there is "probable cause" to try Murray on an involuntary manslaughter in the pop star's death. The hearing is expected to last two or three weeks, with 20 to 30 witnesses testifying.
Murray waited at least 21 minutes after he found pop star Michael Jackson unresponsive before calling for an ambulance, a prosecutor said at the start of Murray's preliminary hearing Tuesday.
"By all accounts, Michael Jackson was dead in the bedroom at 100 North Carolwood prior to the paramedics' arrival," said Los Angeles County Deputy District Attorney David Walgren.
The coroner concluded Jackson died from "acute propofol intoxication," in combination with "the contributory effects of the benzodiazepines," Walgren said.
Propofol is a powerful anesthetic used to "put people under for surgery," and the benzodiazepines were sedatives Murray later acknowledged giving Jackson in the morning before his death, he said.
"Michael Jackson was preparing for one of the most important tours of his life" in the months before his death, Walgren said.
Murray's defense team has hinted it would argue that Jackson was under pressure from the concert promoter, which led him to demand treatments to help him sleep.
Kenny Ortega, who directed Jackson's comeback "This Is It" concerts, was the first of about 30 witnesses to be called by the prosecution.
Ortega described Jackson as "involved, active, participating" at his last rehearsal, which ended just 12 or 14 hours before the singer died.
"He was in a delightful mood and we had an absolutely fantastic day," Ortega testified.
But Ortega described a different, "scary" Michael Jackson at the Staples Center rehearsal on June 19, six nights before his death.
"I just felt that he appeared, you know, really lost," Ortega said. "It was scary. I didn't know what was wrong. I couldn't put my finger on it."
Ortega suggested to Jackson that he cut his rehearsal short and go home to rest.
He was called to a meeting at Jackson's home the next day, where he was "scolded" by Murray for having sent Jackson home the night before, Ortega said.
"Dr. Murray told me that this was not my responsibility and he asked me not to act like a doctor or psychologist," he said.
Ortega said it was an emotional meeting, but he denied yelling at Jackson. "It wasn't yelling," he said. "It was about caring."
"Michael said 'I know you love me and I know you care about me, but you don't have to worry. I'm fine,'" Ortega said. "It was Michael's voice that calmed me."
Randy Phillips, the CEO of concert promoter AEG Live, and Jackson manager Frank Dileo were at this meeting, along with Murray and Jackson, Ortega said.
A civil lawsuit filed last year by Michael Jackson's mother against AEG Live alleged that Phillips visited Jackson's home on June 18, 2009, to warn "that if Jackson missed any further rehearsals, they were going to 'pull the plug' on the show."
"AEG told Murray that he had to make sure Jackson got to rehearsals," Katherine Jackson's lawsuit charged.
The prosecutor told Judge Pastor that medical experts would testify that Murray, hired as Jackson's personal physician while he prepared for his concert tour, took "a number of actions" that "showed an extreme deviation from the standard of care."
In addition to the CPR performed by Murray that the prosecutor described as "ineffectual," this would include administering propofol in a home setting without proper monitoring. No medical equipment that could have monitored Jackson's pulse and breathing were found in the upstairs bedroom, Walgren said.
The 20-minute delay in calling 911 for paramedics was contrary to standard care, he said.
When paramedics arrived, Murray failed to tell them about the propofol or other drugs given to Jackson that morning, Walgren said. That, too, was contrary to standard care, he said. Murray also neglected to tell emergency room doctors who were trying to revive Jackson at Ronald Reagan UCLA Medical Center about the drugs, Walgren said.
Murray remains free on $75,000 bond.
InSession producer Michael Christian contributed to this report.
FOLLOW THIS TOPIC