Sheriff's deputies, suspect shot in western Ohio identified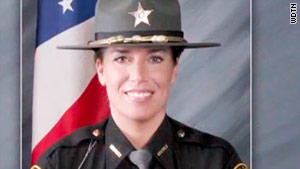 Deputy Suzanne Hopper, a mother of two, was shot and killed Saturday in Clark County, Ohio.
STORY HIGHLIGHTS
NEW: Authorities identify the shooting suspect as Michael Ferryman, 57
The suspect is dead
Second law enforcement officer is in fair condition
Sheriff: Suzanne Hopper, who was killed, was married and the mother of two children
Read local coverage of the incident at WDTN
(CNN) -- A sheriff's deputy who was shot and killed at a trailer park in western Ohio has been identified, as has the suspect who was also killed.
Deputy Suzanne Hopper was investigating reports of gunfire in the area Saturday when she was killed, Clark County Sheriff Gene Kelly said.
"Our deputy never had the opportunity to return fire or take cover," the sheriff said.
A second law enforcement officer also was shot at the Enon Beach trailer park in suburban Springfield, Ohio.
The officer, Jeremy Blum, is in fair condition, Rebecca Czachor, a spokeswoman for the Miami Valley Hospital in Dayton, Ohio, said Sunday.

Deputy slain, another wounded
Video from CNN affiliate WDTN shows Blum being shot. He falls to the ground and rolls before other officers help him out of the line of fire.
The suspect, identified by authorities as Michael Ferryman, 57, was shot and killed, said Kelly.
The sheriff praised Hopper as an outstanding deputy. He said she was married and the mother of two children.
"This is the worst day in my 24 years as the sheriff of Clark County," Kelly said Saturday, his voice breaking with emotion. "It's a terrible tragedy for this community."
CNN's Leslie Tripp contributed to this report.
FOLLOW THIS TOPIC