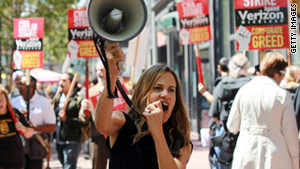 Protesters demonstrate outside a Verizon Wireless store in San Francisco on Wednesday.
STORY HIGHLIGHTS
45,000 unionized employees will return to work Monday
The two parties have agreed "on a process for moving forward," Verizon says
Key points of contention between the two sides remain to be settled
The strike has been marked by harsh accusations and denials from both sides
New York (CNN) -- Verizon Communications Inc. and union leaders announced Saturday an end to the acrimonious two-week strike that left thousands of workers without paychecks and customers with long waits.
The 45,000 unionized employees who walked out on the company will return to work Monday night, according to a Verizon press release, although the two parties have not yet agreed to a contract.
While Verizon said the sides have agreed "on a process for moving forward," many of the dispute's key points of contention -- particularly health care costs -- remain to be settled.
The employees have been picketing since August 6 to protest concessions that Verizon is trying to get from its employees. Those concessions include the elimination of two paid holidays, the freezing of pensions, the alignment of pay raises with job performance, and the union's contribution of $100 per employee toward health care premiums.
"The major issues remain to be discussed," said the workers unions, the International Brotherhood of Electrical Workers and the Communications Workers of America, in a joint press release.
Additionally, there is no set time frame to resolve the workers' complaints, with no deadline for a new collective bargaining agreement, Verizon said. The workers will return under their contracts from before the strike began.
The strike has unleashed a barrage of vitriol and accusations from both sides.
During the strike, CWA spokeswoman Candice Johnson accused Verizon replacement workers and managers of driving vehicles into picketing crowds, striking more than a dozen picketers.
Verizon spokesman Rich Young accused the strikers of throwing themselves in front of vehicles, which Johnson called "ridiculous."
The FBI also launched an investigation into more than 90 acts of sabotage that Young said have taken place since the strike began. Saboteurs have cut phone lines, affecting the service of several thousand customers primarily in New York and New Jersey but also in Massachusetts, Pennsylvania and Delaware, Young said.
However, both sides tried to maintain a positive tone Saturday.
In a statement, Verizon Executive Vice President for Human Resources Marc Reed said the end of the strike would benefit the company's employees.
"We are pleased that during this stressful economic period our union-represented employees will be back at work earning good wages and benefits," Reed said. "We look forward to negotiating the important issues that are integral to the future health of Verizon's wireline business."
IBEW spokesman Jim Spellane also said he was optimistic that the strike showed "that we're both serious about getting what we want," and that Verizon would negotiate in good faith with the unions.
"It's a good thing to get them back to work before the hurt really sets in," Spellane said.
Long-simmering tensions, which have come into full view since the strike began this month, may make reaching an agreement difficult.
Spellane criticized Reed for saying in his statement Saturday that there was no "significant disruption to customer service" during the strike, saying he disagreed with "their claim that everything was running fine without our people."
The strike, Spellane said, proved "the company can't function for very long without their work force."