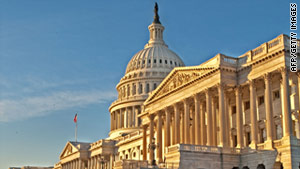 In July, S&P placed the United States' rating on "CreditWatch with negative implications."
STORY HIGHLIGHTS
Treasury Department cites error that inflates U.S. debt by $2 trillion
S&P admits the error but says it matters little in its overall analysis
The reaction comes as the credit rating agency downgrades U.S. from AAA to AA+
Sources familiar with the S&P matter call the move political
(CNN) -- A senior Obama administration official is calling Standard & Poor's move to downgrade U.S. credit "a facts-be-damned decision," saying the rating agency admitted to an error that inflated U.S. deficits by $2 trillion.
U.S. Treasury officials received S&P's analysis Friday afternoon and alerted the agency to the error, said the administration official, who was not authorized to speak for attribution.
The agency acknowledged the mistake, but said it was sticking with its decision to lower the U.S. rating from a top score of AAA to AA+.
"This is a facts-be-damned decision," the official said. "Their analysis was way off, but they wouldn't budge."
Other sources familiar with the S&P matter called the move political and said the decision was rushed out too quickly.
The White House is now in wait-and-see mode -- hoping the decision and the S&P analysis face outside scrutiny, the official said.
"A judgment flawed by a $2 trillion error speaks for itself," a Treasury Department spokesperson said.
John Chambers, head of sovereign ratings for S&P, admitted there was an error in a CNN interview Friday night, saying "we agree with the Treasury's position on this and our figures reflect that."
But he also said the error "doesn't make a material difference -- it doesn't change the fact that your debt-to-GDP ratio ... will continue to rise over the next decade," he told "AC360."
In July, S&P placed the United States' rating on "CreditWatch with negative implications" as the debt ceiling debate devolved into partisan bickering.
To avoid a downgrade, S&P said the United States needed to not only raise the debt ceiling, but also develop a "credible" plan to tackle the nation's long-term debt.
Chambers said the slowness at raising the debt ceiling and the political infighting led to the move. In announcing the downgrade, S&P cited "political risks, rising debt burden; outlook negative."
"The downgrade reflects our opinion that the fiscal consolidation plan that Congress and the administration recently agreed to falls short of what, in our view, would be necessary to stabilize the government's medium-term debt dynamics," the agency said.
The immediate implication of the downgrade was unknown. "Only time's going to tell how we're going to be affected," former U.S. Comptroller General David Walker told CNN's Anderson Cooper. "Interest rates that affect the U.S. government ultimately can ripple throughout the economy, which is not good news given our weak economic condition already."
S&P has not spelled out what the United States has to do to regain its AAA rating, sources said.
However, Chambers said "it's going to take a while to get back to AAA." Walker, who served as comptroller general from 1998 to 2008, said he wasn't "totally surprised" by the downgrade, saying S&P in April "made it very clear that they were looking for at least a $4 trillion reduction in the projected deficit over the next 10 years.
Within hours of S&P's move, both parties were playing the blame game. Former Sen. Rick Santorum of Pennsylvania, who is among a field of Republican contenders for the 2012 presidential nomination, attributed the downgrade to a lack of leadership.
"The markets are scared and the credit downgrade has happened because the president and this Congress continue to address the symptoms and not the disease," he said in a statement.
Former Utah Gov. Jon Huntsman said the downgrade was due to "out-of-control spending and a lack of leadership in Washington"-- a sentiment echoed by several GOP lawmakers, including House Speaker John Boehner.
"The spending binge has resulted in job-destroying economic uncertainty and now threatens to send destructive ripple effects across our credit markets," Boehner said in a statement.
Mitt Romney, the former governor of Massachusetts and also a GOP presidential contender, called the downgrade "a deeply troubling indicator of our country's decline under President Obama."
South Carolina GOP Sen. Jim DeMint, meanwhile, called on Obama to replace Treasury Secretary Timothy Geithner immediately.
"The president should demand that Secretary Geithner resign and immediately replace him with someone who will help Washington focus on balancing our budget and allowing the private sector to create jobs," DeMint said in a statement.
On the Democrats' side, Senate Majority Leader Harry Reid stressed "the need for a balanced approach to deficit reduction that combines spending cuts with revenue-raising measures like closing taxpayer-funded giveaways to billionaires, oil companies and corporate jet owners."
A special joint committee of Congress will recommend further deficit reduction steps totaling $1.5 trillion or more, with Congress obligated to vote on the panel's proposals by the end of the year.
"This makes the work of the joint committee all the more important, and shows why leaders should appoint members who will approach the committee's work with an open mind -- instead of hardliners who have already ruled out the balanced approach that the markets and rating agencies like S&P are demanding," Reid said.
Chambers, however, told CNN that "there's plenty of blame to go around," calling it "a problem that has been a long time in the making well over this administration and the prior administration."
It was a sentiment echoed by many, who took to social media sites Facebook and Twitter to communicate about the issue.
"Not really a surprise the credit rating was lowered. Both parties acted like children. Compromise is like using a water gun to put out fire," tweeted Michael Ross, who uses the Twitter handle MWRoss.
Rich Tucker, 36, of Charlotte, North Carolina, used humor to get his point across, tweeting that Standard and Poor's had also just downgraded the Beatles to the Monkeys.
"OK, done with the S&P downgrade jokes ... truly sucks that we are here ... we all need to sacrifice to get out of this hole," Tucker tweeted.
Later, Tucker told CNN that he believed "there is almost no one who isn't to blame for where we are." "We are all in this situation as a country together, and we are going to all have to sacrifice to get out of it," Tucker said.
CNN's John King and Dan Lothian contributed to this report.