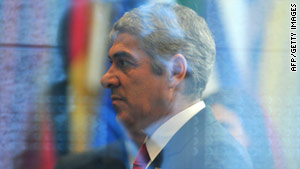 Portuguese Prime Minister Jose Socrates leaves an EU summit in Brussels on March 25, 2011.
STORY HIGHLIGHTS
Portugal says it needs aid, and Fitch estimates the country needs $86B to fund it until 2013
It would be the third eurozone country to get aid from its peers, after Greece and Ireland
Eyes are now on Spain, but commentators say it is not expected to need a bailout
London, CNN -- Portugal's caretaker government, led by Jose Socrates, Wednesday admitted his country needed financial aid from the European Union. It would be the third eurozone country to get financial assistance after being unable to fund its debts. Socrates stood down as prime minister on March 23 after being unable to push through austerity measures.
--- Why has Portugal asked for a bailout now? What's the reaction been?
Portugal ran out of choices. It needs to repay bond investors more than €4 billion ($5.7 billion) next week and almost €5 billion in the middle of June. On Wednesday it raised €1 billion in T-Bills, or short term debt, but it paid a massive premium. If a country can't afford to fund itself, and can't cut costs internally, it needs help. Ratings agency Fitch has estimated Portugal needs €60 billion in funding through to the end of 2013. That figure could rise if the banks need help.
--- Who will pay for it?
Portugal has asked the European Union for aid. As with past bailouts, the International Monetary Fund is also likely to assist. There is an existing eurozone bailout fund, called the European Financial Stability Facility, which has the capacity to lend €440 billion. It was created by Europe's leaders to deal with the eurozone bloc's sovereign debt crisis. Portugal seems likely to tap this, but details are still being hammered out.
--- What's the market fallout for this worldwide?
Investors in Portugal were buoyed by the news, but global reaction was muted. Market observers had been expecting a bailout for some weeks.

Spain economy eyed after Portugal plea

Portugal seeks bailout, eyes on Spain
--- What will its impact be beyond the markets, both politically and on ordinary people?
The loans effectively spread the cost of supporting struggling economies across Europe, and there are political and financial implications. The countries that are taking bailouts face severe austerity measures, while those providing the bulk of the loans risk a political backlash. In Greece, people took to the streets in protests at the austerity measures, while Ireland kicked out the government that negotiated its bail-out package.
--- Has a bailout happened before? Can the bailout fund cope with this?
A bailout for Portugal would be the third for a eurozone country. The bailout fund was established after Greece, facing huge bond repayments, was forced to seek €110 billion in aid in the middle of last year. Ireland, whose banking sector has sucked up €46 billion and needs €24 billion more, then negotiated a bailout package of €85 billion, €17.5 billion of which comes from its own pension fund. The bailout fund can cope with Portugal, but eyes are on Spain, a far bigger economy.
--- How do the situations in Greece and Ireland differ from those in Portugal?
Greece was struggling to repay debt. Ireland's banking system dragged the economy into a bailout. Portugal's problems were slightly more nuanced. Its government, led by Socrates, had been trying to introduce austerity measures to keep it from needing aid. The measures were not passed, and last month Socrates resigned. Amid the political limbo, the cost of its borrowing shot up, meaning it was unable to raise enough money it could afford by itself.
--- What's the state of Greece and Ireland now?
Initially, reaction to the bailouts were positive. However, markets remain sceptical about the ability of Greece and Ireland to fund themselves on an ongoing basis. They need to repay the loans while also trying to cut the costs of running their countries. Many market watchers expect some sort of debt restructuring over the next few years.
--- Are any other nations at risk?
Spain is the economy everyone is worried about. However, there have been positive signs in recent weeks that the country has managed to distance itself from the bloc's troubled peripherals. European leaders have also established a permanent stability fund that will replace the current bailout fund when it expires in 2013. The permanent fund will be able to lend up to €500 billion, and is designed to reassure markets that the bloc is serious about supporting its members.
--- If Spain needs help, how serious a situation would that be?
Spain has long been seen as the economy that is too big to fail, given its huge size relative to those which have been bailed out. Other countries have exposure to its debt, and any admission it could not meet its obligations would be a huge shock. In good news, it is collecting supporters. Francesco Garzarelli, co-head of macro markets research at Goldman Sachs in London, says Spain will not need a bail out. A European Commission spokesman Thursday said Spain "is well on track."
--- Are we watching the death throes of the Euro?
The eurozone appears deeply fractured, despite the best efforts of its leaders to settle the crisis. The end game of this great experiment -- having a common currency across such different economies --- is not yet clear.
FOLLOW THIS TOPIC