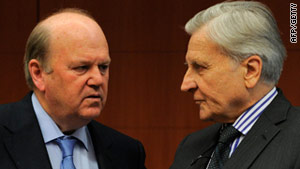 ECB President Jean-Claude Trichet (R) speaks with Irish Finance Minister Michael Noonan on March 14, 2011.
STORY HIGHLIGHTS
Ireland's rating was downgraded Friday
The country's banks need an extra $34B funding
Taxpayers, not creditors, will carry the cost
London (CNN) -- Ireland was hit with a ratings downgrade Friday, following The Central Bank of Ireland's revelations the country's banks need a further €24 billion ($34 billion) to enable the sector to cope with further economic shocks.
The figure, coming on top of the €46.3 billion already shovelled into the banks, brings the total cost of Ireland's banking sector bailout to €70 billion.
The extra €24 billion will in part be drawn from the country's €85 billion bailout package from the European Union and International Monetary Fund, €17.5 billion of which comes from Ireland's pension fund.
The banking bailout's headline number suggests the country's 4.5 million taxpayers could ultimately be tapped for €15,000 each, following the banks' splurge on bad investments during the boom years.
The final figure will shake out lower --the government plans to raise cash through hitting the investments of banks' junior creditors, tapping private equity and selling assets.
Taxpayers are also facing severe austerity measures and the need to fund repayment of the aid package at interest rates some observers argue are unsustainable.
Newly elected finance minister Michael Noonan, of the coalition's senior party Fine Gael, was expected by some observers to shift some of the burden onto the banking sector's senior creditors, thus easing pressure on the taxpayers.
He didn't, and the decision is feeding a political furore.
Thursday's stress tests results were done on the country's four main banks, Allied Irish Banks, Bank of Ireland, Irish Life & Permanent and EBS Building Society.
Allied Irish Banks needs €13.3 billion in extra capital, Bank of Ireland needs €5.2 billion, EBS needs € 1.5 billion and Irish Life & Permanent needs €4 billion. Anglo Irish Bank, which was at the heart of Ireland's financial crisis, and Irish Nationwide Building Society (INBS) are effectively in wind down and were not part of the tests.
The banks will also be restructured. Bank of Ireland will shed €30 billion of assets by 2013, while Allied Irish Banks and EBS will be merged. The government will most likely take a stake in Irish Life & Permanent. The restructuring will lead to a largely nationalized banking sector.
The Fine Gael party had indicated in its manifesto some financial burden could be shifted onto the banks' creditors, particularly those of Anglo Irish and INBS.
Noonan started his speech to the Irish parliament Thursday by declaring September 30, 2008, as the "blackest day in Ireland since the Civil War broke out." It was the day the then-Irish government extended the "infamous guarantee to the Irish banks."
Yet he maintained that stance for senior creditors, meaning taxpayers will bear the bulk of the bailout.
"I have expected some burden sharing on Anglo senior (creditors)," Ivan Zubo, credit analyst for European banks at BNP Paribas in London said. "With AIB and Bank of Ireland they were less likely but nevertheless a possibility." The reasons to avoid it are likely political. "I suspect the European policy makers are very concerned about systemic implications of a haircut on senior bank paper in the Eurozone," Zubo said.
Noonan defended his stance on Ireland's RTE Radio Friday by saying he was unable to gain support from the European Central Bank. "Frankfurt would not agree to sharing with the bond holders," Noonan said. However, "The debate is going on," Noonan added. "You see the bigger picture is, is that Europe had a currency crisis. And it didn't have the policy instruments to deal with it."
The ECB Thursday released a statement saying it, the European Commission and International Monetary Fund supported Ireland's announcements.
A hit to creditors would be politically and financially fraught. As Constantin Gurdgiev, adjunct lecturer in finance Trinity College Dublin, points out, the impact of a cut in the value of Irish bank bonds would reverberate through the euro-zone.
Other European banks hold the investments, so it would mean real losses to their books. There is also a psychological barrier. If one euro-zone country's banks default on its obligations to investors, other could follow.
Put that in the context of a euro-zone which remains fragile following the bail-outs of Greece and Ireland, and increasing concerns around Portugal. Such a destabilising move would not be welcome.
And so Noonan remains squeezed between European and domestic politics. The debt drama is unlike to ease: Standard and Poor's decision to downgrade Ireland's credit rating to BBB+, with a stable outlook, was in response to concerns around Ireland's state bonds. Meanwhile, taxpayers are continuing to carry the pain.
FOLLOW THIS TOPIC