Irish banks need $34B more capital, central bank says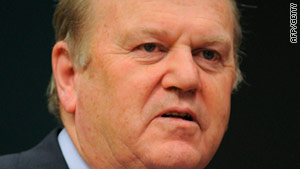 Irish Finance Minister Michael Noonan on March 14, 2011 in Brussels.
STORY HIGHLIGHTS
Irish banks needs a further €24 billion in cash
The announcement follows the country's €85 billion EU/IMF bail-out package
In total, it means €70 billion will be injected into the banking sector
London (CNN) -- Ireland's troubled banking sector needs an extra €24 billion ($34 billion) in funds to ensure it can withstand economic shocks, the Central Bank of Ireland announced Thursday.
The results followed stress tests done on the country's four main banks, Allied Irish Banks, Bank of Ireland, Irish Life & Permanent and EBS Building Society.
Allied Irish Banks needs €13.3 billion in extra capital, Bank of Ireland needs €5.2 billion, EBS needs €1.5 billion and Irish Life & Permanent needs €4 billion. Anglo Irish Bank, which was at the heart of Ireland's financial crisis, and Irish Nationwide Building Society are effectively in wind down and will not need further cash.
The results are at the high end of expectations and follow previous injections of €46.3 billion into the banking sector, bringing the total bail-out for the sector to €70 billion.

Irish banks in stress
The stress tests follow the €85 billion bail-out package negotiated with the European Union and International Monetary Fund. Of that, €35 billion was tagged for the banking sector.
In a speech to the Irish Parliament, Finance Minister Michael Noonan, whose Fine Gael party was voted in last month, also announced a restructuring of the banking sector.
Bank of Ireland will shed €30 billion of assets by 2013, while Allied Irish Banks and EBS will be merged. The government will most likely take a stake in Irish Life & Permanent, Noonan said.
Noonan said the restructuring of the banking system was intended to "put the banking system on a firm footing for the future and break the bonds with our toxic banking past."
Gary McCarthy, managing director of Collins Stewart in Ireland, said the announcement "changes nothing," with the Irish state still liable for the debts of the banking sector.
FOLLOW THIS TOPIC