Bankruptcy cases decline in Japan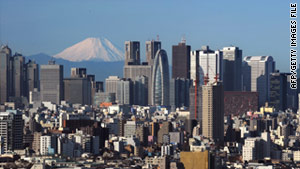 Japanese bankruptices fell at its fastest level in five years.
STORY HIGHLIGHTS
Bankruptcies cases drop below 1,000 in February
The number of cases fell 9.4% from a year ago
Tokyo (CNN) -- Corporate bankruptcies in Japan fell to 987 cases in February -- a 9.4% drop from levels a year ago, the credit research firm Tokyo Shoko Research said Tuesday.
It was the first time in nearly five and a half years that the total has fallen below 1,000.
The February figures marked the 19th consecutive month that bankruptcies have declined on a year-on-year basis.
Tokyo Shoko said government support in financing medium- and small-sized companies helped to curb financial failures.
Compared to January, the bankruptcies in February fell by 5.1%, although overall debt increased with the $28 billion bankruptcy of a food and medical supply manufacturer Hayashibara.
CNN's Yoki Wakatsuki contributed to this report
FOLLOW THIS TOPIC